Pop Farm is an urban farm, growing decorative plants and fresh herbs, vegetables and other ingredients for use by local people, food businesses and Pop Brixton's community of caterers.
The purpose of the project is to make gardening more accessible to local people, educating, informing and sharing food growing knowledge in the community. To achieve this we have creatied a beautiful, planted and productive garden where local people can participate in a range of free gardening activities.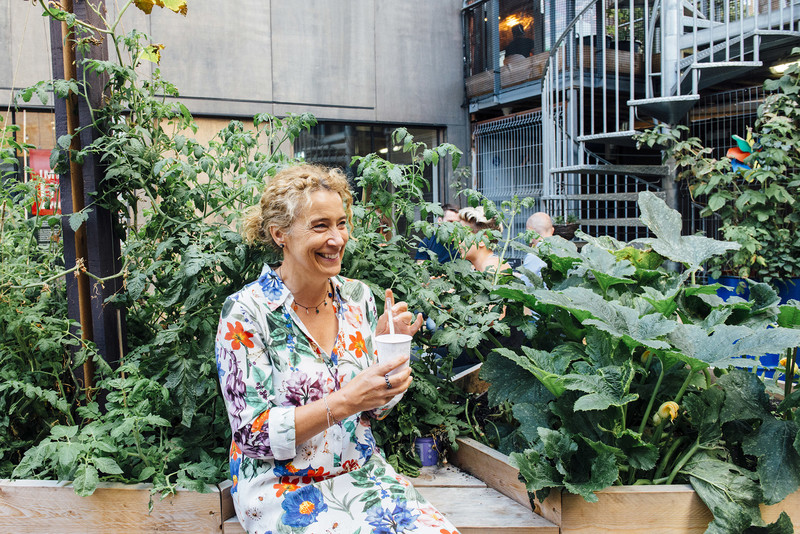 Cuttings, seeds and bulbs will be distributed to local households for free, hopefully inspiring further gardening at home, and the space will become a lush outdoor green space for members of the public to visit, and spend time in.
Pop Farm also offers education and training through workshops exploring gardening, food growing, nutrition and horticulture. This includes formal education programmes in horticulture, developing employability skills and personal development. Pop Farm also runs free workshops with local primary and secondary schools and offers free weekend workshops for the public to take part in.
Further practical workshops are offered in nutrition and how to use the fresh ingredients to improve wellbeing. The outcome of workshops are connected with the community and helping personal growth.
Free Gardening Workshops Every Thursday and Saturday
At Pop Farm we host weekly free workshops, where any members of the community can come along to learn how to grow food and flowers, brush up on their gardening skills to use at home, or gain skills to help them start a career in horticulture.
Each Thursday from 10am we host sessions with a particular focus on skills for work in the horticulture sector. You will be introduced to the challenges of maintaining public ornamental gardens, as well as how to plan and manage a community food growing space.The workshops are suitable for people with any level of experience.
Each Saturday from 11am there are hands-on workshops for people of all ages and levels of experience, with a focus on fun and developing skills that can be used at home, ideal for families and local people who want fun learning activities on the weekend.
Just come along and get involved!