It's been nearly 15 months since the first lockdown in March 2020, and what an incredibly tough journey it has been for us all, and still is! Especially for small local independent enterprises and businesses. At Pop Brixton, there is no exception. 
From the start and throughout this ongoing pandemic, we continue to strive to provide as much support as possible, to the collective of local businesses, who call Pop Brixton their home.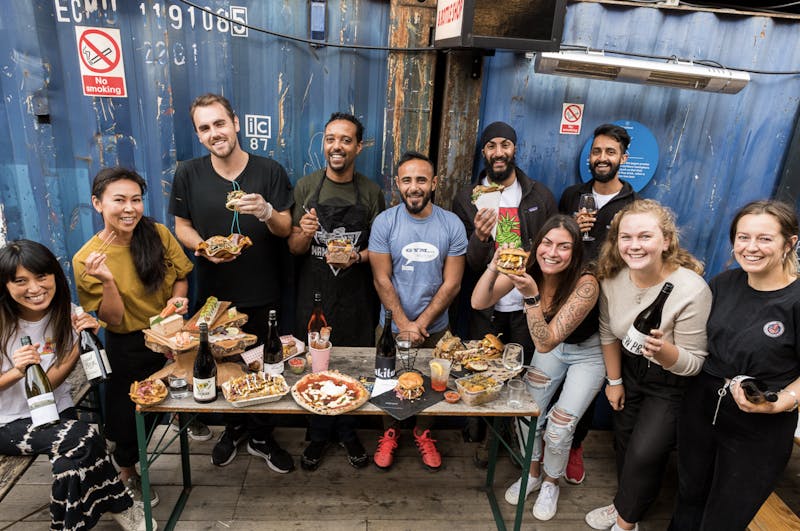 [Just a few of the Pop Brixton Members]
Together with Make Shift, the team behind Pop Brixton, we have offered assistance in a number of ways, such as: 
- Highlighting and helping with government grant applications
- Signposting to external training and learning eg. Brixton Bid's first aid training
- Offering free up-skilling and training opportunities eg. Search Engine Optimisation workshop and How to get the best out of Instagram Marketing 
- Local give-back opportunities eg. Planting trees in the Brixton orchard, a COVID memorial space 
- Keeping open and transparent lines of communication throughout 
- Remain open for our Members, unable to work from home
- Negotiated hard with Deliveroo for a group discount, when delivery was the only option to continue trade
- And in response to COVID-19, we immediately stopped all rental charges for our Members and continued to apply discounts as the sites started to reopen 
As a direct result of the savings from cancelled rent, one of our Members, the School of Communications Arts (SCA) have decided to 'give back,' to the local neighbourhood. We are so pleased to hear that they will be offering a full-time, paid scholarship to a student for September 2021 intake. 
SCA has kindly named it, The Decent Landlord Scholarship. It's a humbling experience for us - doing the right thing has resulted in many more unexpected positive outcomes, and this certainly is one of them!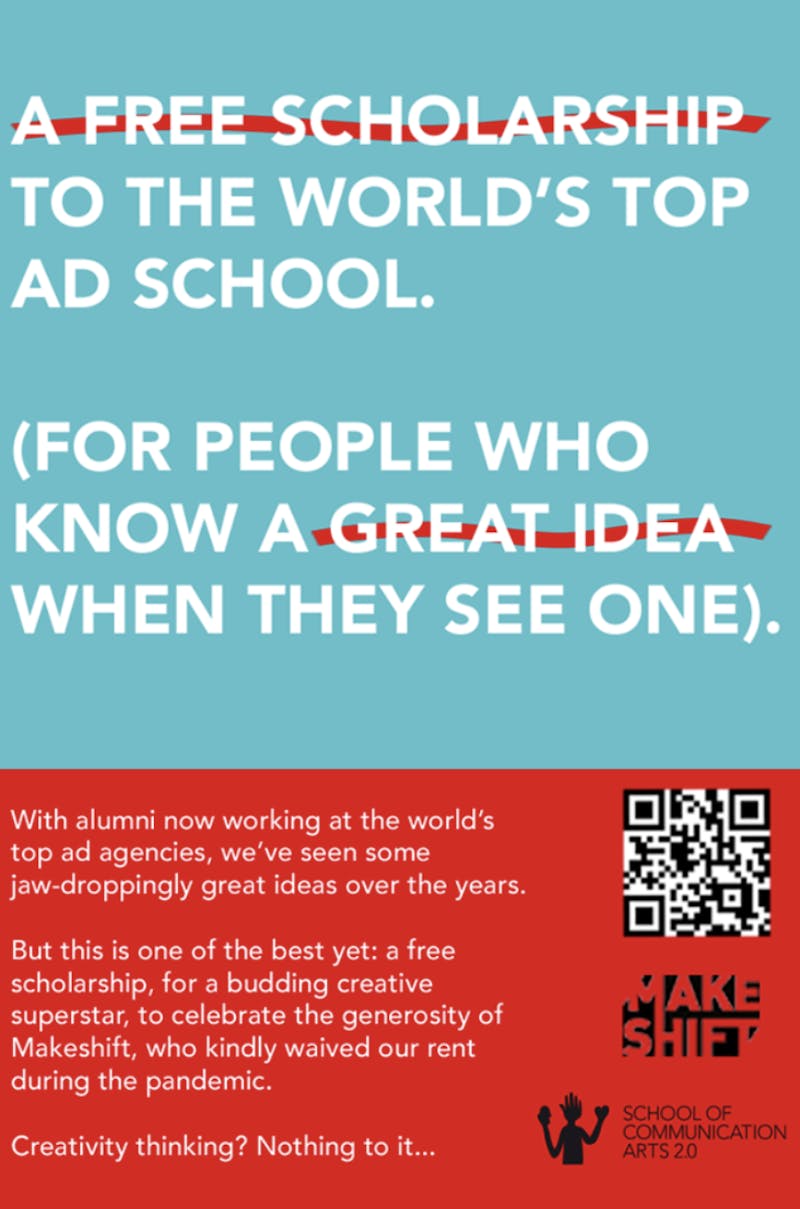 You can find out more about SCA here and how toapply for the September 2021 Scholarship here.To qualify for The Decent Landlord scholarship, applicants must be local to Brixton and Lambeth, home to Pop Brixton. We're also extending call-outs to those local to Hackney and Peckham, where Make Shift also operates similar hyperlocal creative destinations. You will be asked for proof of address on entry.
In the meantime, you can read the thought piece from the Dean of SCA himself, Marc Lewis - The Decent Landlord Scholarship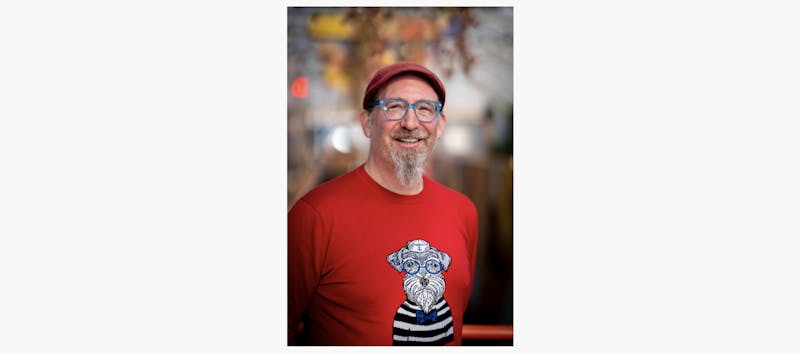 "Here we are, coming out of lockdown three, welcoming students back since half-term, along with a new auditorium for our glamorous line-up of superstar lecturers.  A year ago, we were seriously worried that the school might become a causality of coronavirus, and if we had stayed in the church then we would certainly have been finished off in the first lockdown.
We fled the church in January 2020, surrendering our lease because we feared for the safety of our students. Despite regularly bringing our concerns to the landlord's attention, things got worse. The camel that broke us was when the landlord chained all the fire exits (to stop homeless people from breaking in) and locked our students inside their studio at night.  
Only weeks earlier, I had played George the Poet's incredible episode on the Grenfell tragedy to the very same students. 
So we ran towards a set of shipping containers on the other side of Brixton, and we found our home.
Over lockdown, the landlords at Pop Brixton immediately sent out messages letting all tenants know that they would not be charged rent or services. I often speak to the traders, because they are our neighbours and friends, and I am convinced that Make Shift has been a blessing for so many of us; that they are a landlord worth celebrating.  There is a huge difference between cancelling the rent and deferring it, to be collected later, and our landlords took the hit so that we wouldn't need to have the anxiety of more debt on our minds.
For those of you who do not know the School of Communication Arts, for 10 years we have been the most awarded, and best-regarded School for Advertising and Marketing Communications in the World.  Our brilliant alumni work as creatives in the best agencies on the biggest campaigns. Nearly a third of our alumni network won places at SCA on industry-funded scholarships.
This generous act by a landlord, of forgoing rent during the lockdown, has helped our school save enough money to fund a full London scholarship. 
The Scholarship would suit any creative person, passionate about pursuing a career as a creative within our industry, we do not look for formal qualifications, academic achievement,  or high levels of experience. We are looking to support passionate, interesting people looking to pursue a creative career.
We would like the Pop Brixton Members and the wider local community to spread the word and help us find our next creative superstar.
The applicant will enter our standard recruitment process, with one lucky recipient being invited to attend our 10-month course starting in September (course fees of £16,500 will be fully covered by the School).
They won't be treated any differently to any other student, including our many industry-funded scholarship beneficiaries, but they will inevitably be part of our local community, and we hope that they will be inspired to serve our community in the spirit of reciprocity that our landlords generously shared with us.
If you have a business trading in Pop Brixton or from the local neighbourhood, then please spread the word amongst your networks. We're looking for an aspiring creative with an interest in the advertising industry who would benefit from a scholarship at the world's most successful advertising school, tell them about the scholarship and ask them to visit our application page here.
 The ideal candidate will have creative bones, they don't need to be an artist or a wordsmith, but they enjoy making stuff, ideally with others. They need to be competitive, because SCA is the most awarded ad school in the world, and our students are hungry for success. They need to be curious and self-motivated.
We look forward to receiving applications from your networks. Your time starts now.