You may have noticed Pop Brixton has entered Summer 2021 with a brand new look and feel. Our event space, tables and seating have been reimagined with a patchwork of playful colours, shapes and styles. The designs you see are the bespoke and original creations of Fables, the latest local partnership we commissioned this May, through an open call out to the local community.
We recently spoke with Creative Director Ben, to learn more about how Fables started, what inspired the designs and what else they're working on this summer.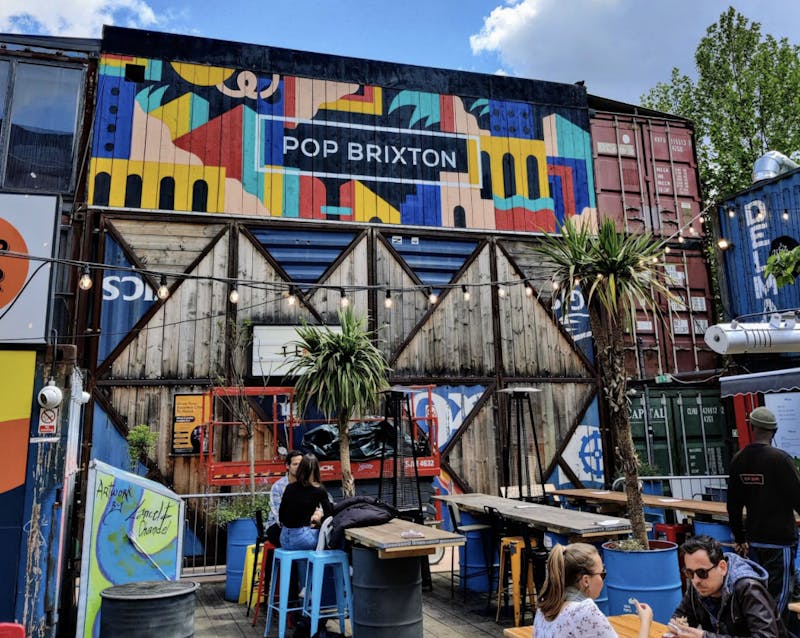 Tell us a bit about how Fables came about and the journey you've made as a business in South London? 
"Fables started as a bunch of friends from university, getting together to throw big house parties in Birmingham, with proper budget and lovingly bodged together decor and production. As these parties progressed, we started running club events with increasingly huge immersive sets, eventually snowballing into being a full blown self taught production company for festivals, events and spaces around the uk and beyond. With our pretty distinctive style we have taken on all sorts of projects in the past 5 years and moved our operations to a beastly workshop in Norwood, our new home and we couldn't be happier to be based in South."
We love the designs you've created for Pop Brixton, what is the thinking behind the shapes, patterns and colors you've used? 
"Our response to the design brief for Pop Brixton came naturally given our existing style is based on urban silhouettes, vibrant colours and architectural design. The signature  vibrancy and bold shapes of our style, fitted the space and more importantly, reflected the colourful vibe of Brixton perfectly, so we felt we had to take it on! Using a strictly primary palette we made a playful yet sharp abstract take on the people, streets and places of SW9."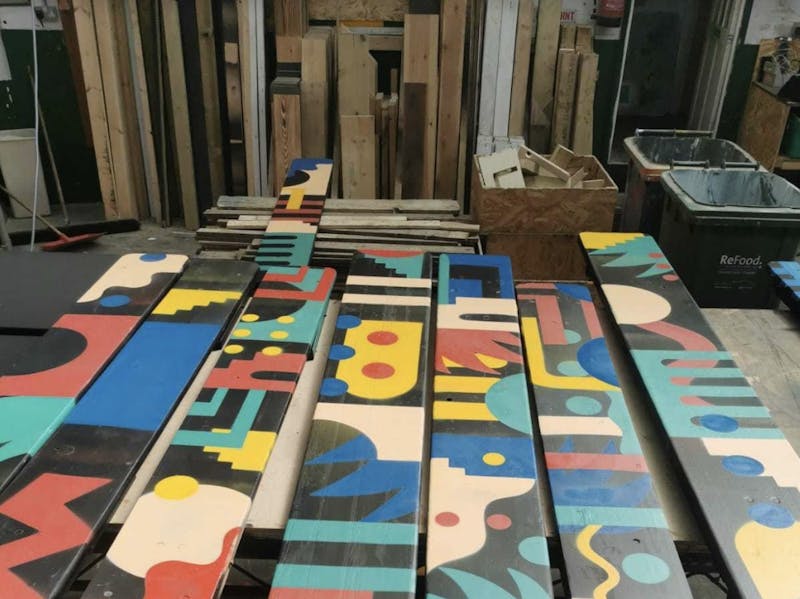 What do you look to for inspiration? 
"We use architecture as our primary source of inspiration, the shapes, silhouettes, design principles and negative space of urban spaces in particular. London is such a buzzing hive of talented artists and illustrators who inspire us in turn, so inspiration really is everywhere for us. For our more carpentry based projects it has to be said that Japanese minimalist aesthetics have been our main influence, clean cut simplicity done right!"
What has been the most challenging part of starting your own agency? 
"I mean, probably a global pandemic? All jokes aside I guess the most difficult part is the lack of security and millions of factors that could shut your work down. Everything from festivals being shut down by bad wind, to power cuts blacking out venues we have been transforming, plunging us into total darkness on a 24 hour night shift! When your work is never the same every single day there can always be a different crazy hurdle to handle and you never know what It could be."
Do you have any advice for any young people looking to get into the creative industry? 
"Collaborate! Don't feel like you have to take on being creative on your own. Our business started when a few illustration (myself), theatre production,  business studies, and sound production students (amongst a few other mates) pooled our skills together to make some mad stages and it's come a long way since then."
I hear you are producing some festivals this year - where can we see your work over the summer?
"We are designing and building all the stages of Gala Festival in Peckham and that's a biggie for us, huge plans in place! You will also find our work at Houghton and potentially Dimensions. But we shall see, nothing is certain anymore, but you gotta keep the faith!"
---------------------------------
We love working with local artists and designers who have a passion for creating unique and beautiful spaces. If you'd like a space to display your work, have an idea for a mural, or would like to sell your products in the Create Shop, please get in touch with nick@makeshift.org.