It has been 5 years since Pop Brixton opened its doors and welcomed an exciting array of independent and local businesses ranging from creatives, non profits, craftspeople, retailers and chefs. By providing the space, the tools and the network within the neighbourhood, this diverse range of businesses can work together organically, creating a local space for culture and enterprise to thrive.
We enable talent and ambition to flourish, with the aim to reflect diversity, character and the spirit of Brixton's neighbourhood. Supporting local businesses who can improve our communities, create meaningful jobs and retain local services. 
Alongside our Members, there has also been a whole host of groups and individuals from the local community who have been integral in shaping the project and have made Pop Brixton the creative and innovative hub it is today. 
We wanted to take this opportunity to share and celebrate with you some of our local partnerships and contributors. Whilst Pop Brixton can offer the space, resources and the platform, the stars of the show are without doubt our Members and local partners, who are at the forefront, as champions of individuality. Together, amplifying the efforts and impact as a collective. 
We're very proud to be home to some incredible cultural organisations who form an important part of our Membership including Blackstar, Container Records, ILUVLIVE, Massolit, School of Communication Arts and Spaced Digital and our supported space, Reprezent Radio. Not only have these businesses created opportunities for the local economy but they have been integral to help safeguard some of Brixton's local culture.
Whilst we cannot go back to normal just yet, the pandemic has made us sit back and reflect on some of the most recent collaborations that have taken place on site, including a range of cultural workshops, events, classes, markets and development programmes. 
Last year we held around 104 free live music events, 260 free local community events/classes, 48 craft markets, 26 enterprise and education related events, along with regular on-going development programmes and platforms.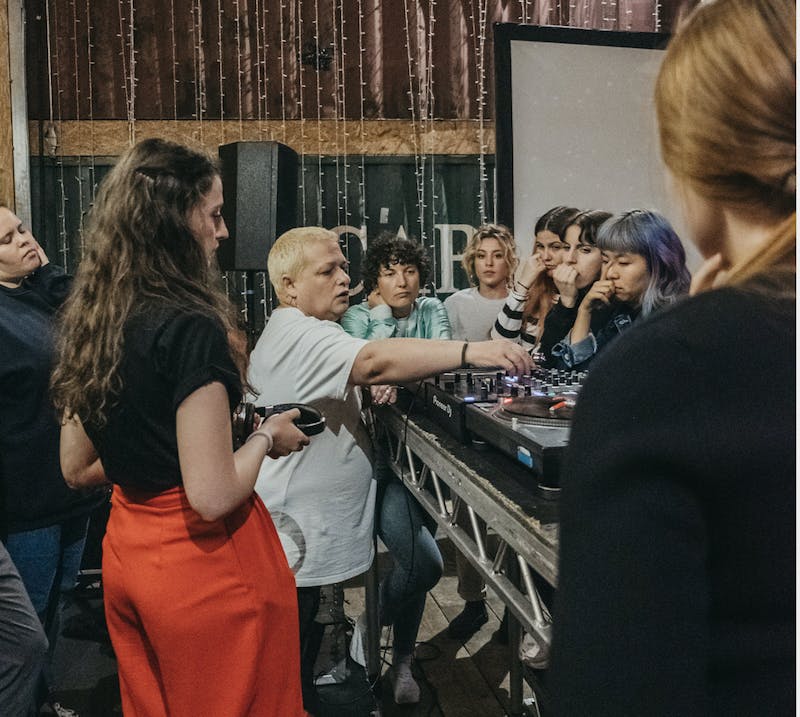 [credit: Rhythm Sister DJ workshops]
SHOWCASING LOCAL MUSICAL TALENT 
Every Pop Brixton regular will know that one of our most popular and electric evenings was brought to you by the talented pool of musicians from Tomorrow's Warriors. If you don't already know, they are an innovative jazz music education & artist development organisation committed to increasing diversity across the arts through jazz. They have a special focus on female musicians from the African diaspora. Their regular performances with us on Thursday nights not only brought our Pop Box to life with the sound of saxophones, guitars and drums but also provided an opportunity for local talent to perform in front of a large and live audience.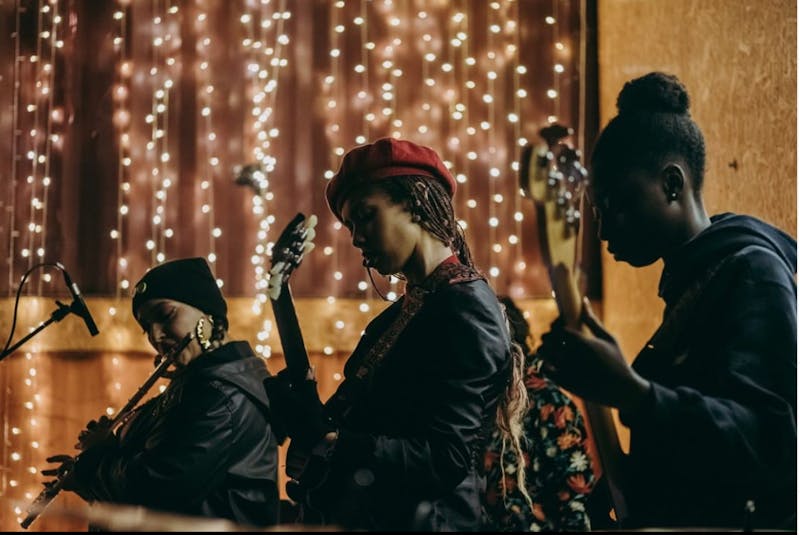 [Credit: Tomorrow's Warriors, Pop Brixton, Pop Box]
We are also proud to have worked with Focus Organization, who are determined to bring music from all over Africa to the masses, in doing so they have built relationships with venues and musicians from all over London hosting some incredible events. 

Born out of this partnership, is the long lasting and phenomenal event series, Focus Africa, an all day, family event featuring workshops and performances from musicians specialising in sounds from across the African continent. Children were invited to attend dance classes or even try their hand at a drumming workshop, before the live bands graced the stage at the Pop Box, including performances from Yabba Funk and DJ Snuff.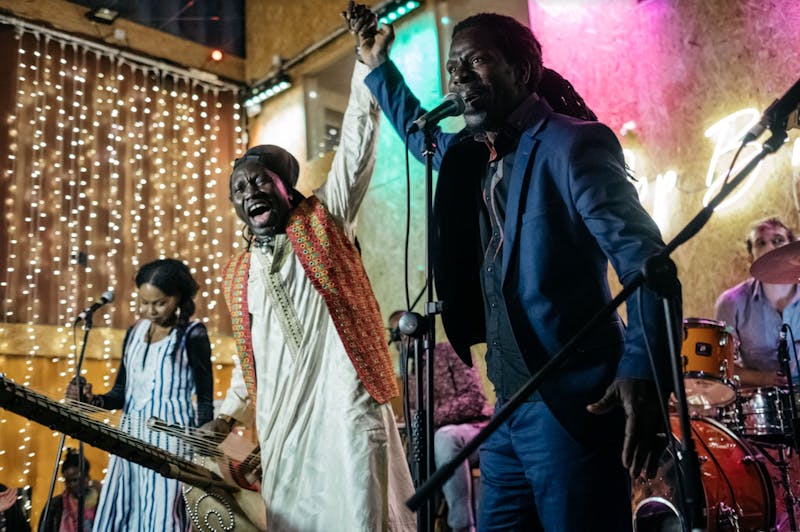 [Credit: Focus Africa, Pop Brixton, Pop Box]
Movimientos, one of the most active Latin American organisations in the UK, was another notable South London partner that we worked with, who brought incredible feels to the site with all day parties showcasing live performances from Latin focused bands, dancers, DJs and artists. 
We have provided space and platforms for local partners such as  RAW Material, a creative arts and music charity for young people and adults working locally in Lambeth as well as across London; and Fireball Sessions - live sessions for local vocalists and musicians.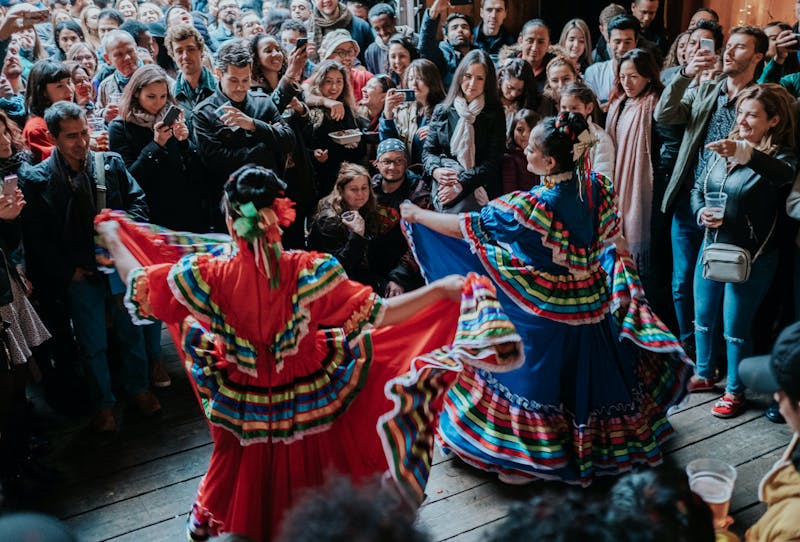 [Credit: Movimientos, Pop Brixton, Pop Box]
SUPPORTING LOCAL CREATIVES & ARTISTS 
Over the years you will have noticed that our site is always evolving and transforming to showcase the work of commissioned local artists who use their designs and artwork to refresh our spaces across the project using all mediums including paint, furniture, signage and greenery. We have worked with some incredible artists and partners over the years including:
- South East London's highly reputed Katrina Russel Adams gave the outside of our containers a colourful refresh
- Alphabetics Anonymous, a young sign-painting collective from South East Londonworked with us to revamp our entrance signage which we love!
- School of Communication Arts students (now one of our newest Members) were involved with designing one of our site's annual summer transformations 
- Urban Growth have worked with us for many years to maintain the Pop Farm, growing and looking after an array of seasonal herbs and edibles as well as providing beautiful planters around the site
- Kind Studios were commissioned to transform and provide a lick of colour to our project for our summer launch in 2019 .
This October a member of our very own security team Tara-Naadei Kotey, has been commissioned to paint a mural on the entrance to Pop Brixton. The design, which Tara illustrated features prolific Black artists and musicians, in celebration of Black History Month 2020.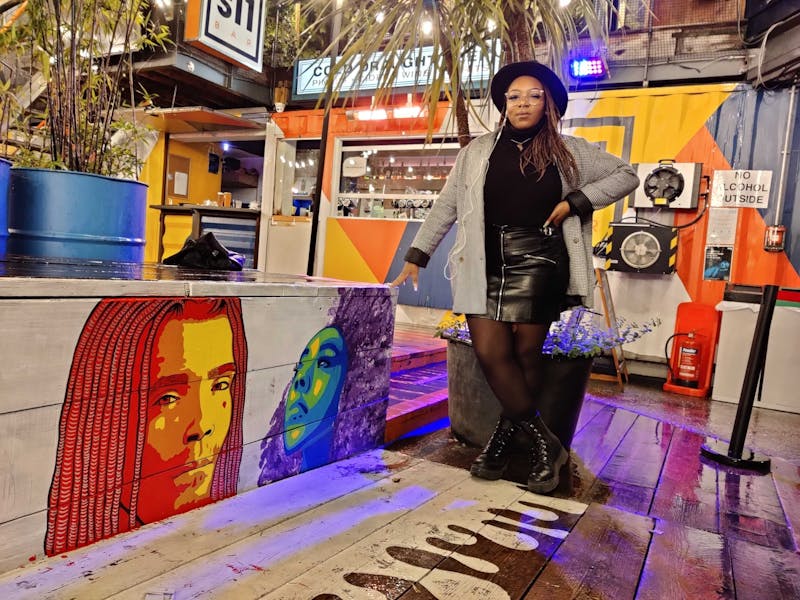 [Credit: Local artist and part of Pop Brixton's security team, Tara-Naadei Kotey]
We asked Tara how she feels to take part in this project:  
"I feel proud because I work here as well and being able to do something for my community and Black History Month, and myself, where I work, feels so rewarding." 
The mural is still in progress so keep an eye on our Instagram for the final work or head down to site to see it first hand.


SAFE SPACES & COMMUNITY 
In 2019 alone, Pop Brixton held over  260 free community classes. Before lockdown, every week we played host to a variety of regular classes and groups. Some classes like
Tech Mates, a computer workshop for elderly residents of Brixton, and Karate Kids, are hosted by our resident members Hitesh Chauhan from KTK and Ming Chan, from Koi Ramen respectively. While Krafty Kids, a Saturday morning activity group which encouraged local children to get creative with fun crafts was run by our local event partner,  Julia Nieto-Juan. 
Each week we also played host to the inclusive sensory dance class 'Let's Dance'; DJ workshops for young women, with South London's female-led Rhythm Sister, The Floor Is Yours. Other notable free classes are Gong Bath and yoga classes, Baked Beans Workshop, DJ workshops designed for people with disabilities and No Long Ting, dance classes for local children.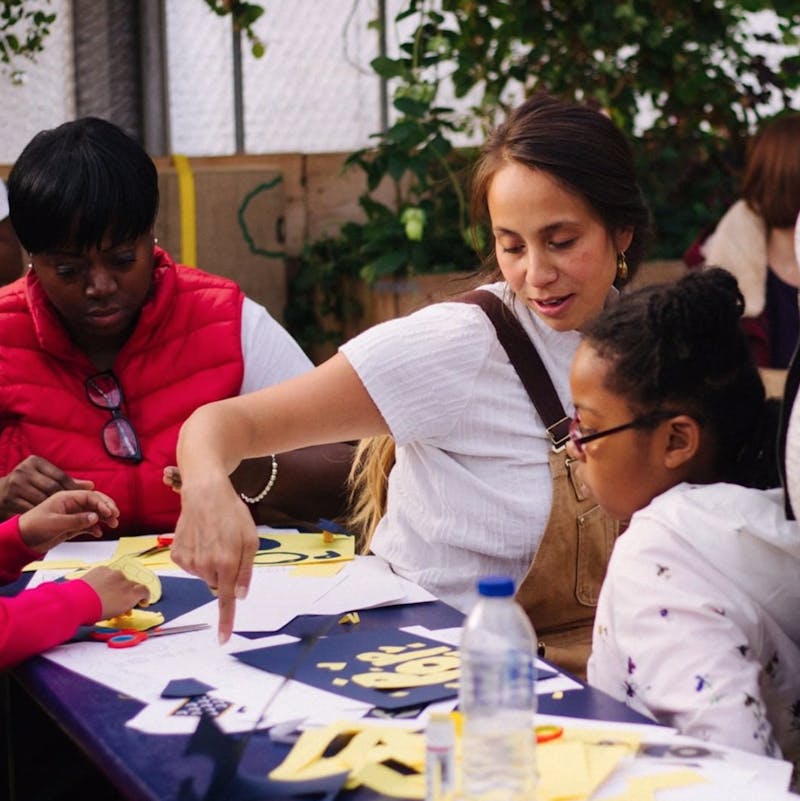 [Credit: Krafty Kids ]
THE CULTURE OF ENTERPRISE
Our cultural programming has also placed emphasis on ensuring that we are providing a platform to help creative people to have the best chance of success in turning their talents into a viable business. Over the last year we have hosted 48 craft markets to create this opportunity, including Vintage Kilo Sale, Near Mint Record Fair and The Make Shift Foundation 'Made Youth' Market, who specifically focuses on 16-25 year olds. Enabling young creatives and entrepreneurs to realise their ambitions through opportunity, experience, training and networking.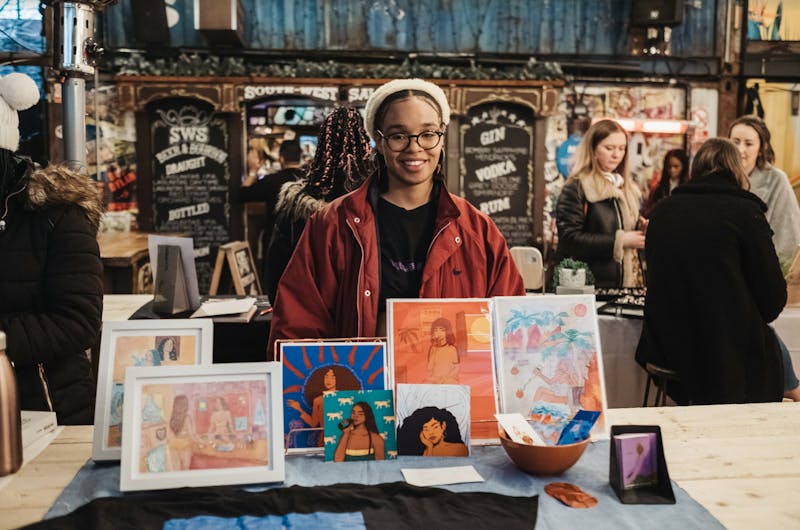 [Credit: The Make Shift Foundation, Made Youth Market by Yaneva Santana]
Bayo, Foundation Lead at The Make Shift Foundation told us that: 
"Pop Brixton has been integral to our work, enabling us to create spaces in which young people feel comfortable and excited to be in. With the support of Pop Brixton we have been able to develop an opportunity driven programme to nurture entrepreneurship locally and increase the visibility and reach of our work."
Development programmes and providing educational platforms are essential parts of our cultural provision at Pop Brixton. In collaboration with The Make Shift Foundation, Style & Sound, is a series of panel discussions designed to provide young people with valuable insights and knowledge, on how to navigate the creative industry. We hosted some of London's best emerging female DJ's including Jordzz and Oh Annie Oh, who shared their tips and answered questions on, 'How to Grow your DJ Career,' in front of an aspiring young audience. The series has now progressed onto an online platform. Keep an eye out for more sessions like this on @StyleandSoundhi.
We also provided venue space at Pop Brixton for School Ground Sounds, a talent development organisation, focused on empowering young people from disadvantaged backgrounds, to fulfil their musical talents. In addition to playing host to The Grit School Live, a 7-week programme, giving young local creatives the platform to put on their own gig in the heart of Brixton and to celebrate their collaborations, new skills and talents. The programme culminated into a showcase live at Pop Brixton.  
[Credit: Style & Sound at Pop Brixton by Yaneva Santana]
CHAMPIONING COMMUNITY GROUPS WITH CULTURAL PURPOSE
We have always been keen to collaborate with and champion local community groups or charities that are making a positive, cultural impact in Brixton. That is why we have worked with several groups and individuals over the years to contribute in any way we can. 
Pop Brixton first met Sinead Browne, the founder of Compliments of the House, (a food redistribution charity based in Brixton), when we provided her with much needed space to run her operations and fundraising events. For Christmas 2019 we partnered with Sinead to run a complimentary Christmas dinner and evening for those in need, collaborating with our Members who supplied food and drink and some of our community providers who provided us with music and entertainment. 
Since it was set up in 2018, the local charity has gone from strength to strength . Sinead was a recent recipient of the Points of Light award, a weekly recognition scheme from the Prime Minister for outstanding individual volunteers - people who are making a change in their community.  At Pop Brixton we are proud to continue to support Sinead in her mission.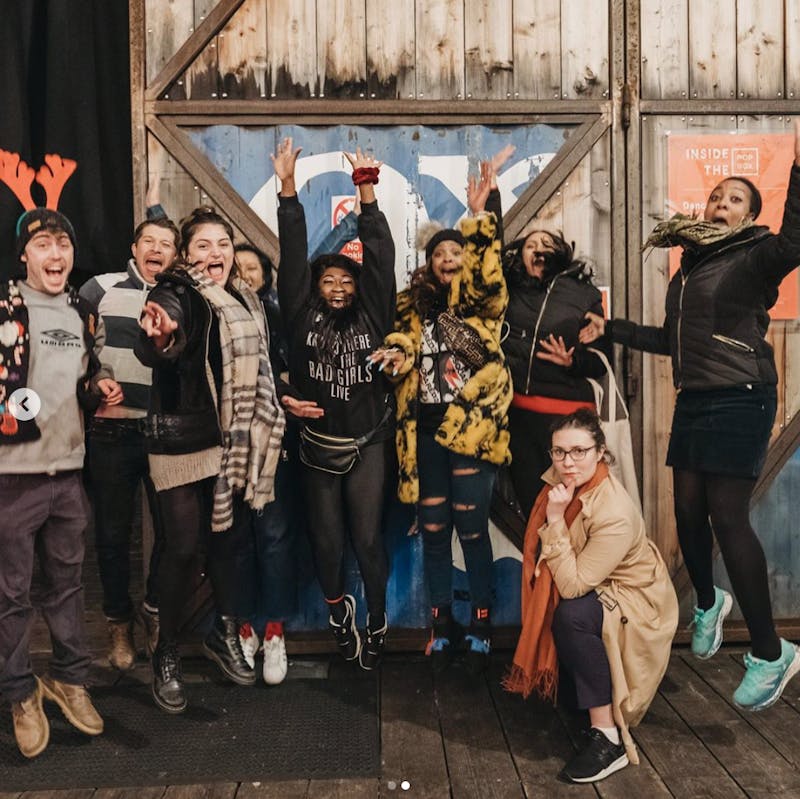 [Credit: Compliments of The House, Pop Brixton by Yaneva Santana]
Sinead explained that, 
"Pop Brixton has always treated Compliments of The House as an integral part of the community and has done its utmost best to support the vital frontline service that we offer. Their unquestionable support has meant that we have not only been able to provide a service to our guests but have been able to hold a fundraiser in the Pop Box, free of charge." 
WHAT NEXT? 
Make Shift Foundation and The Zoo - 10 week training & development programme
The Make Shift Foundation has partnered with The Zoo to offer a 10 week training and development programme to 15, 18 - 25 year olds called Event Masters. The programme will provide expert training in Event Management and Audience Development with over 60 hours of training and practical experience. The cohort will be tasked with producing an event at Pop Brixton, and upon graduation will continue to work on our events programme as curators with Make Shift Foundation.

Youth Market Retail Shop
You can also keep your eyes peeled for our first ever Youth Market shop. Taking over our prime retail unit in the courtyard and opening on the 28th October, young creative entrepreneurs from Lambeth and Southwark will be able to sell their products and gain valuable experience in managing a retail space. The shop will also allow for local young people to take over the store for a day to promote their work.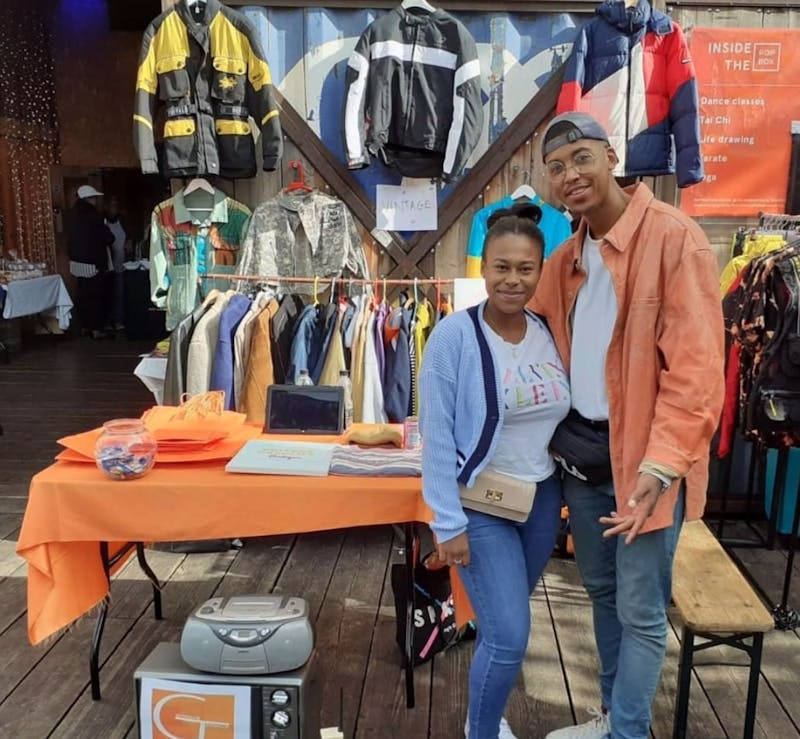 [Credit: Make Shift Foundation, Youth Market by Yaneva Santana]
If you want to learn more about the local groups, charities or partners we work with please feel free to get in touch Info@makeshift.org.