Forget piling into the local pub for the World Cup, come and kick back with us this summer.
We'll be showing all of the games from June 14th in The Greenhouse where we have our screens (yep, we're going for it with two screens) set up for all group stage matches, and some of the matches after June 30th will be shown in Pop Box. The last 16/quarters/semi and final will be shown in Pop Box too.
There'll be plenty of comfy seating and some of London's best street food traders on hand to fuel the fun. There's no entry fee, no need to book, just rock up, grab a beer and some food and settle in.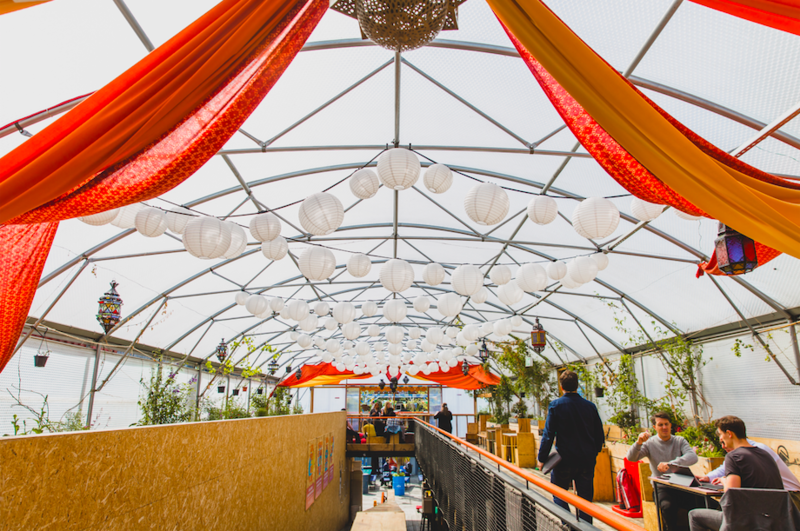 Here's the plan...
14th June:
4pm - Russia vs Saudi Arabia
15th June:
1pm - Egypt vs Uruguay
4pm - Morocco vs Iran
7pm - Portugal vs Spain
16th June:
11am - France vs Australia
2pm - Argentina vs Iceland
5pm - Peru vs Denmark
8pm - Croatia vs Nigeria
17th June:
1pm - Costa Rica vs Serbia
4pm - Germany vs Mexico
7pm - Brazil vs Switzerland
18th June:
1pm - Sweden vs South Korea
4pm - Belgium vs Panama
7pm - Tunisia vs England
19th June:
7pm - Russia vs Egypt
20th June:
7pm - Iran vs Spain
21st June:
1pm - Denmark vs Australia
4pm - France vs Peru
7pm - Argentina vs Croatia
22nd June:
1pm - Brazil vs Costa Rica
4pm - Nigeria vs Iceland
7pm - Serbia vs Switzerland
23rd June:
1pm - Belgium vs Tunisia
4pm - South Korea vs Mexico
7pm - Germany vs Sweden
24th June:
1pm - England vs Panama
4pm - Japan vs Senegal
7pm - Poland vs Colombia
25th June
3pm - Uruguay vs Russia
7pm - Spain vs Morocco
26th June:
3pm - Denmark vs France
7pm - Nigeria vs Argentina
27th June:
3pm - Mexico vs Sweden
7pm - Serbia vs Brazil
28th June:
3pm - Senegal vs Colombia
7pm - England vs Belgium
30th June:
3pm - Round of 16: C1 vs D2
7pm - Round of 16: A1 vs B2