Chef Aaron Webster and Remi Williams from Smoke & Salt have let us into the secret behind creating one of their fave dishes: Crispy Potatoes, Ox Heart, Chimichurri and Gorgonzola.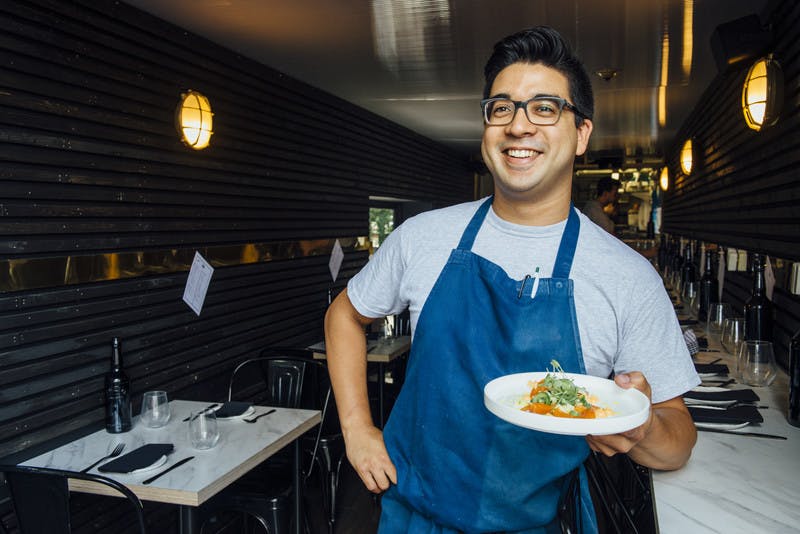 Here's what they told us: This dish is a sustainable homage to Steak, Chips and Blue Cheese. We love offal, in particular beef heart, because it is so lean and flavoursome. Chimichurri is a South American sauce that loosely translates as 'a mixture of things in no particular order' this makes it great way to use up any herb stems, old chillis, peppers, onions etc. All the elements on this recipe are things that might otherwise get thrown away, that's the beauty of this dish!
Ingredients (serves 4):
500g Potatoes
1 Ox Heart (cleaned up of all fat, heartstrings and membranes to leave pieces of lean heart meat)
200g Gorgonzola (or old strong cheese scraps you have lying around)
1 bunch Parsley
1 Bunch Mint
1 Bunch Spring Onions
1 Green Pepper
1 tsp Chilli Flakes
3 Cloves Garlic
Olive Oil
Vegetable Oil
Method:
Cut your potatoes up into mouthful size pieces and cook in salted water until tender but not breaking apart. Strain, set aside and cool.
Marinate the heart in some olive oil and chopped garlic and set aside in the fridge. If you can't get a butcher to clean your heart or don't feel confident to do it yourself (there are good guidelines on
youtube), you can sub in skirt steak as a sustainable alternative.
To make the Chimichurri, remember any old herb and vegetable scraps can go in here, we recommend Parsley, Mint, and Coriander.
Chop all your herbs roughly and put them in a bowl along with sliced spring onions, finely diced pepper, the chilli flakes, finely grated garlic and stir together with olive oil to cover.
Before serving add the vinegar (about 1/3 vinegar for 2/3 oil). Place a thick bottomed frying pan on a medium high heat and add good amount of vegetable oil to cover pan.
Carefully add a layer of potatoes, turning every so often until you get crispy potato cubes. Season the heart steaks generously with salt and place into another hot pan (there will be smoke) and cook for 2 minutes each side until browned.
Take out the pan and set aside.
To build the dish, take the potato cubes out of the pan and dress with the chimichurri and some salt. Carve the heart steaks into thin slices (against the grain of the meat) and place on top of the potatoes.
Crumble the stilton over the top and enjoy!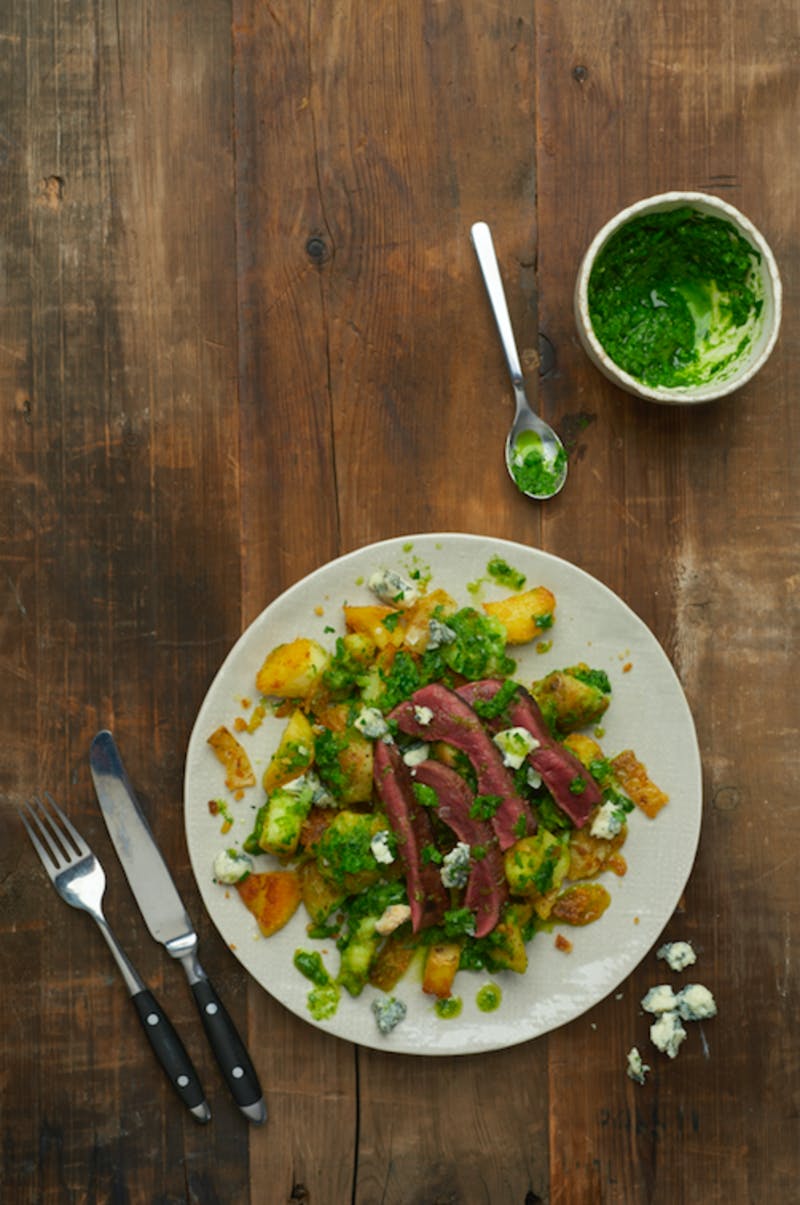 If you've not eaten at Smoke & Salt yet then check out their menu here, and be sure to follow them on social media for updates on their summer dishes and more!