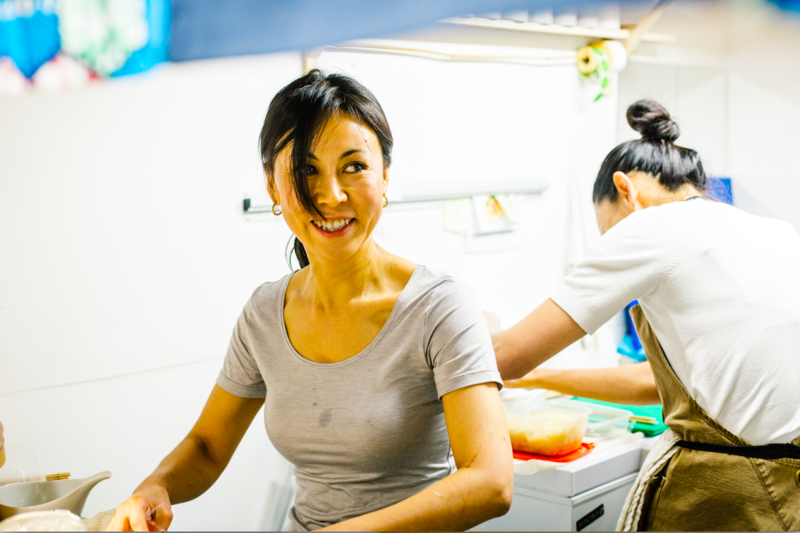 Noriko Tanaka, Impact Hub Brixton member and chef/director of SAKEYA.London, Pop Brixton's newest eatery talked fish, sculpture and paper with Ann Eve-Storr.
Noriko came to London to study sculpture at UCL. Looking for part-time work to support her, Noriko landed what she thought was a part-time job at Nobu Park Lane, a Japanese-Peruvian fusion cuisine, also very popular with A-list celebrities. For three months she thought each day would be her last, and even hanging out with customers like Victoria Beckham didn't help. However, suddenly something clicked, and Noriko fell in love with creating the delicate, mini, edible sculptures. Ten years later, Noriko made the leap from sushi chef to business owner.
Why sushi & sashimi?
There's not a huge difference between sushi & sculpture. Both require delicate tool work, where the smallest incorrect cut makes a huge difference. The standards of Nobu are really high and Noriko wants SAKEYA.London to surpass them. The suppliers are the same, but instead of serving the Beckhams, it is us who get to enjoy some world class sushi on our doorstep.
Why your own place?
Noriko quit Nobu after ten years of working 9am-12pm shifts. There were no particular jobs on the horizon until a friend suggested to her to strike out on her own. A few business plans later, SAKEYA.London came to Pop, and both us and Noriko are much happier for it.
How's it going?
Great! People are telling Noriko she's making the best sushi in London. She's just started serving home-made coffee and cake, all of which are wheat free, use brown sugar over refined, and rice oil rather than butter. Healthy eating is essential to what Noriko does, and when I visited she was serving a beautiful Japanese chiffon cake.
What's life like at Pop Brixton?
The community of high quality and creative cooks is amazing – Noriko particularly rates the Steak guys and their grass-fed beef.
The future of SAKEYA.London
Maintaining quality, healthy food for her customers is Noriko's main aim. A happy and productive workplace is key to the working environment she's creating. Kitchens are notoriously macho, aggressive places, and Noriko wants to change this in her kitchen. She enjoy teaching people the art of sushi and sashimi, too. With the hope of more SAKEYA.London venues, Noriko wants to expand her positivity and her skills.
Today, Pop Brixton: tomorrow, London, the world! Hopefully SAKEYA.London will expand, but Noriko will maintain its roots in superior quality.
Follow SAKEYA.London for all of their yummy dish updates: @sakeya.london
Written by: Impact Hub, based here at Pop Brixton