Be Enriched is a charity based in Tooting, South London. Formed in 2013 by youth and community workers to support and benefit disenfranchised young people by providing them with volunteering opportunities in London, the U.K. and around Europe. This project has developed into multiple community initiatives. In urban areas, loneliness and social isolation have a detrimental effect on health and well-being.
This is exacerbated in areas which suffer from poverty, in particular food poverty. In these areas, cycles of poverty risk being perpetuated when the next generation of young people grow up without skills and are unable to positively contribute to the economic environment. Therefore there is a need for spaces where communities can come together in an accepting and alcohol free environment, work together and identify solutions for a sustainably, supportive future.
They now have four community canteens based around South London, in which they use surplus food donated by local retailers to deliver, hot and healthy, three course meals to some of the most marginalised people in our society. Their community meals are 'pay as you feel' and promote an ethos of all inclusivity. Utilising this platform they provide training initiatives for young people, as well as volunteers from all walks of life, that develops both kitchen and social skills. They are pollinating an area near you with community initiatives that create opportunities for education, participation and inspiration.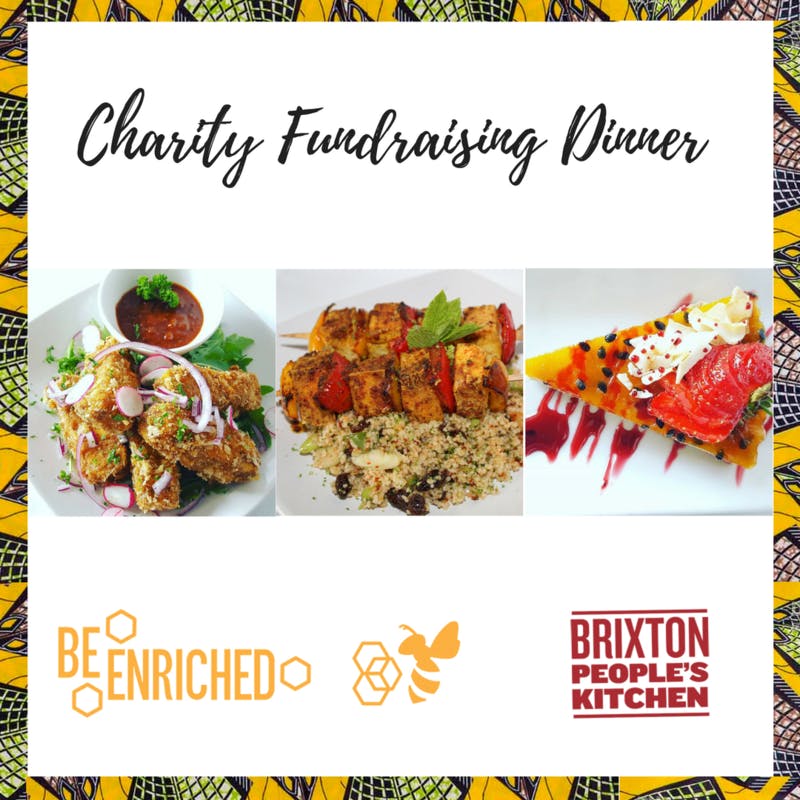 In October, Be Enriched will be pairing up with Devante Malone of Waxy Lemons, pop-up brunch extrodinaire, to create a Caribbean inspired, vegan feast. Devante's ethos is to cater for everyone and offers an all-inclusive dining experience, whilst he pushes the boundaries of culinary possibilities. Guests will be greeted with a cocktail reception, followed by a unique and delicious feast with a difference, all of which is vegan. Musical guests of the evening will be Los Domingos – a live 10 piece upbeat Afro-Cuban latin band, regulars at music festivals and a favourite of the salsa dance scene – tables will be cleared at the end of the night to make way for the dance floor! Other singer-songwriters will accompany the meal, so expect a full evening of fun!
The money raised by the fundraising dinner will be 100% pumped right back into their community canteens and other social initiatives. They run 3-4 community canteens per week which can feed up to around 100 people. They use this as a volunteering platform for people to learn or exercise practical skills like cooking as well as providing a social exchange for both volunteer and guest. The money raised will go directly to helping us fight food poverty and social isolation in the capital.
Buy your tickets now: https://www.eventbrite.co.uk/e/be-enriched-charity-annual-fundraising-dinner-tickets-37332935816