We're super excited to announce the team behind Pop Brixton is opening a second venue, Peckham Levels!
Peckham Levels is a temporary project spanning the next six years, designed to connect talented local people with lasting opportunities. It has a clear focus on connecting people living and working in Peckham and Southwark with new employment, enterprise and education opportunities. All its membership applications prioritise local people, 75% of its members will hail from Peckham itself, and 85% will be from the local borough of Southwark. 10 of its studios are being offered at heavily discounted rates as part of a programme called Creators in Residence, in order to support early stage talent from the local area who otherwise might not be able to pay for membership and starting from £108 a month.
In order to spread the benefit of the project beyond its walls, a Community Resource Scheme, will see all its members and staff investing their time and skills to inspire, educate and support other local people. Each member will commit at least 1 hour a week to participate in training workshops, work experience and other local projects. A Community Investment Scheme will also see 10% of Peckham Level's profits used to invest back into local community projects. All of the project's public and event spaces will also be available for free hire at least 25% of the time, for community organisations and charities to use.
Peckham Levels is the first project of its kind in London, delivered in partnership between Make Shift (the team behind Pop Brixton) and Southwark Council. The partnership is part of Southwark's new cultural strategy Creative Southwark, which looks at how the council's wide range of creative and unique partnerships and regeneration projects, and how they can help shape the borough's cultural sector and help it face the social and financial challenges ahead.
Peckham Levels will be a free and open public space to be used by anyone and everyone. They hope people from all walks of life will visit them together to work, learn, be entertained, and explore their own creativity.

The team behind the project have finally started spilling the beans on who is going to be joining them this October - and we couldn't be more excited!
From local artists and creators taking over studios and workspaces, to independent food and drink traders moving into cafés and kiosks, to events, fitness, beauty, creative facilities and community space... along with their new members they will be creating seven levels of grassroots culture inside Peckham's famous multi-storey carpark.
The site will include 50 studio spaces offered at affordable rates to local artists and entrepreneurs working in design, fashion, crafts, film, architecture and social enterprise. After nearly 300 people applied, last week memberships were offered to 70 applicants (some of whom will share studios). Studio members include gal-dem, a creative collective comprised of over 70 women and non-binary people of colour; Guap Magazine, the world's first video magazine dedicated to discovering creative and entrepreneurial youth; contemporary glass and woodwork artist Anastasya Martynova; Peckham ceramic artist Mae Ceramics; violin maker Andreas Hudelmayer and The Reasons Why Foundation who run behavioural change programmes that help people involved in crime make better decisions and reduce the number of people who reoffend.
This site will also house small businesses providing creative facilities to members and the wider local community, including Champion Prints, who will offer 3D printing services for local designers; and Intoart, a visual arts charity who work with adults and young people with learning disabilities, helping them break into the arts with exhibitions at the V&A and Tate Britain. Other facilities will include shared workshops, ceramics studios and music rehearsal studios.
Levels 5 and 6 will become a public destination bringing an entirely new kind of food, drink and events experience to Peckham. With seven resident street food traders, two bars, a café, live music venue, gallery space, hair salon and yoga studios. Unlike any other destination in London, visitors will be able to step inside to experience and interact with the talents of the project's diverse community of creators.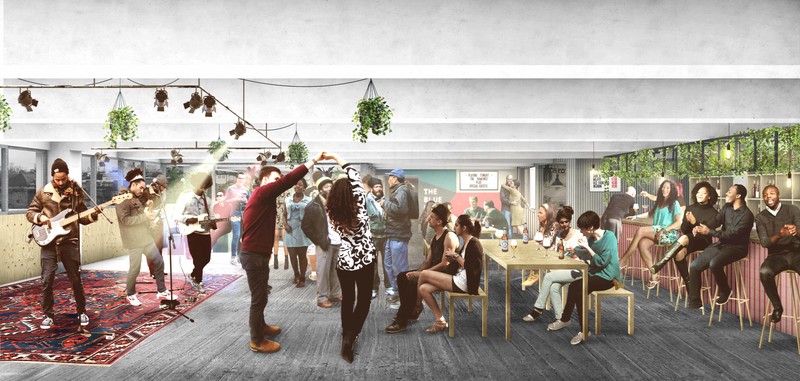 The food line up includes Drums & Flats, from Peckham based entrepreneurial duo and best mates Khamisi and Daniel, who will share their signature chicken wings that have become a talking point of Peckham Springs. Kurdish from Camberwell's family-run favourite, Nandine; indulgent chicken burgers from Otherside Fried and regional Chinese street food from Hao Hao Chi. Classic French confit duck cuisine will be made street-food ready by Canard, the first food project from Peckham boys Jacob Cooper and Hugo Worsley. WEST, a new venture from Peckham locals Jennifer Dworkin and Aneley Caceres will offer a natural wine bar and conscious kitchen serving coffees and Californian-inspired breakfasts and small plates all day.
Drinks will come courtesy of two bars including a cocktail specialist and Lady Godiva, a craft beer inspired bar from the guys behind South London pizza specialists Made of Dough.
An onsite event venue is being launched by local operators Parched London, the people behind Peckham hangouts The White Horse and The Montpelier. By day the space will host community events and provide an international inspired and vegetarian led food offering, by night it will become a bustling live music and events venue that exists to offer a new platform for the amazing up and coming musical talent in the local area.
A beauty and wellbeing offering will include Level 6 Yoga, a health, wellbeing and fitness studio as well as Cahoonas, the first standalone salon from renowned stylist Tracey Cahoon, offering styling for all hair types as well as a training programme for aspiring stylists.
Make sure you sign up to their newsletter and keep your eyes on their blog posts and social channels to stay in the know about who is joining them, upcoming events, getting involved and the BIG launch weekend this October.
Facebook: https://www.facebook.com/peckhamlevels/
Twitter: https://twitter.com/peckhamlevels
Instagram: https://www.instagram.com/peckhamlevels/