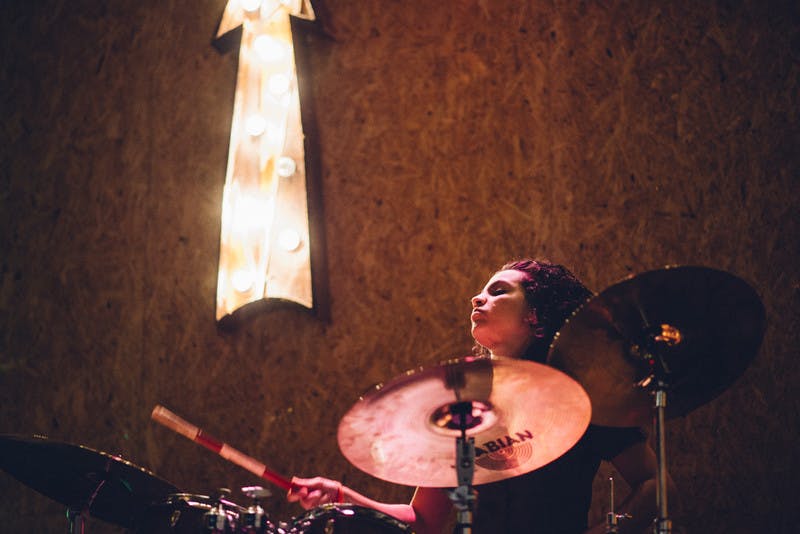 Last week, on the evening of Wednesday 31st, we were thrilled and very proud to be one of the two venues in London (alongside Ronnie Scott's) to host a very special event 'Voices of the Revolution', the latest musical brainchild of the creative network, In Place of War. A group who are working to "mobilise, empower and connect artists in sites of war, revolution & conflict".
Voices of the Revolution is their first ever all-female line-up, featuring a troop of fifteen women, from around the world, from Ghana, Brazil, Zimbabwe, Colombia, Bangladesh, Rwanda, Venezuela, Egypt and the UK to form one badass girl-power super-group. Those that were lucky enough to be there witnessed a free flowing show packed with performers including musicians reclaiming the djembe in Rwanda, an Egyptian accordionist, a Brazilian favela-based dancehall artist and Zimbabwe's rap queen all under the musical direction of Errollyn Wallen, the UK's first black female composer for the Proms
As well as Pop Brixton and Ronnie Scott's, the women have performed at Shambala Festival, Festival No. 6 and will be going on Hull Freedom Festival. For many of the artists this will be their first time outside their home countries.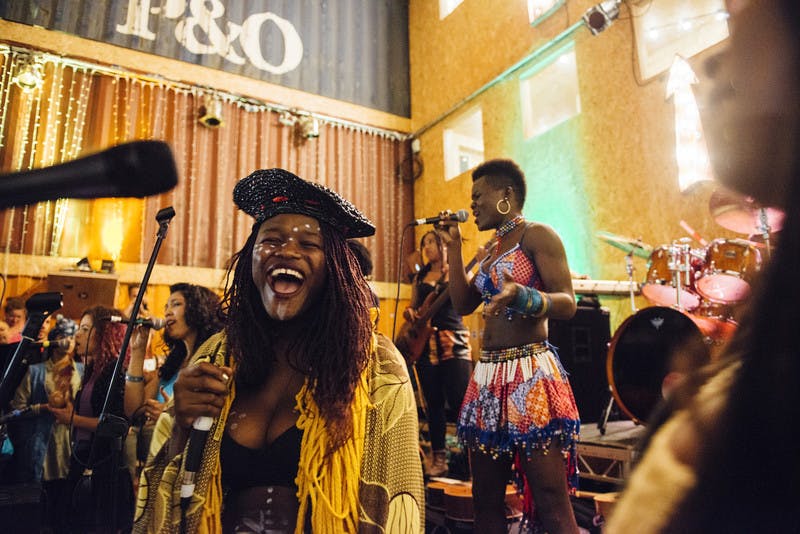 We caught up with Pamela Ospina, the drummer of the group to have a quick chat before their performance at Pop Brixton.
Tell us a little bit about yourself?
First of all, I'm so happy to be there. I hear so much about Brixton from friends, but also it appears in so many musical references like Eddy Grant song 'Electric Avenue'! So, I'm very thrilled to here in Pop Brixton. My name is Pamela Ospina, I'm from Colombia and I'm a drummer, singer and song writer. I work on several different projects outside music as well, but through music sometime ago (7 years) Un-convention, festival created by In Place of War's director, Ruth Daniel, as translator. Anyway while doing that she saw me perform as musician one night, and years later, i got involved in the all female 'in place of war' events. Its been really amazing and a great experience.
Why do you think its important that 'Voices of the revolution' features only female musicians?
This is the first time 'In place of war' have bought together a female band of musician. There is
always a struggle and even though we've gone so far in equality, there's male domination in the music industry, not that its a guys fault that happens it just is like that. Like when your in a room full of male musicians for example they expect you to be a backing vocals, or singing a song, something like that. So its cool for people to see an all female band, because they'll be able to see that females really rock out and really play each and every one of these instruments as well as any guy, but also there's a different power (emotion) to music made or created purely by women.
What do you think is really powerful about performing with all-female band?
I feel as though the fact that we are more open with our emotions (traditionally) helps and we express our vulnerability in a different way - make for a difference experience through music and its necessarily better its just very different. In voices of the revolution we hoped that people saw the range of that emotion, the really powerful ballads about strength and others that are really heartfelt, with a high energy.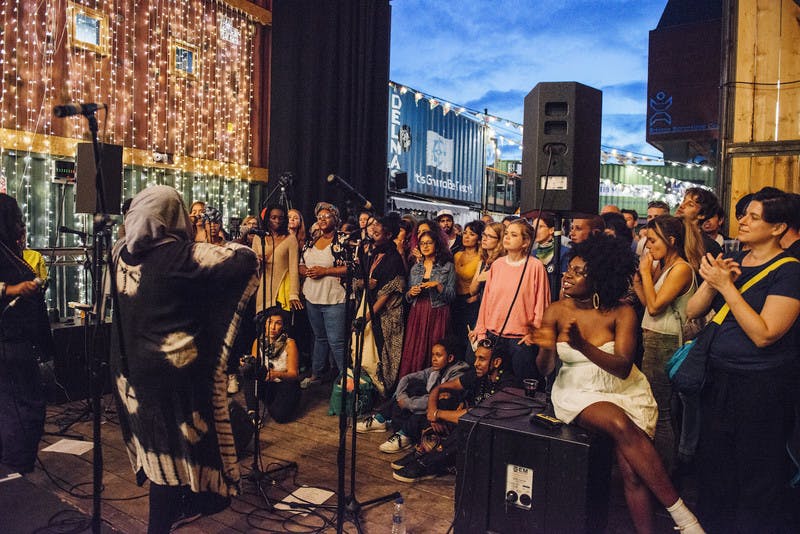 What's it been like working with In Place Of War?
Its awesome for meet and work with such amazing women, all of them are so sure of who they are and what they bring to the project, so its been amazing and really uplifting and inspiring.
What message are you bringing?
There's obviously an underlying message of unity, no matter your ethnicity, religion or nationality and we can all come together through art. That's one message, and also really... GIRLPOWER in this case But every song has its own message and story of struggle, like all the girls that are up there are song writers as well, so its been really cool. Each song that we play is a story of one of these women and so we're getting flashes of what it is to be a colombian girl growing up, or venuezelan girl playing in buses or what it means to be a female rapper from Zimbwawe, its really a mix of all our history.
Travelling and perfoming at festivals, any highlights from those?
They've all been amazing. Ok so first off, the first gig it as really surprising...It worked so well. I mean WE always knew it was going to work well, but to have that reception from an audience that doesn't know anything about us at all was incredible. Every concert, people have been screaming for more! I've done a lot of concerts now, and people always really enjoy themselves but they know my music, they can sing along to my songs. But 'voices of the revolution' was the first concert i've played where I've seen people go so crazy over something that they've never experienced before. Its truly been an humbling experience.