Over the last month our summer pop-up, Pop Fields, has seen some all-star sporting action. If you've had the opportunity to visit, you might have watched Portugal winning the Euros or Andy Murray being victorious at Wimbledon on our big outdoor screen.
But during the day, Pop Fields is home to some of the best community sports organisations in Lambeth. These groups are busy nurturing the skills of future sporting stars and providing an outlet for the local community to get fit, practice sports and have some fun along the way!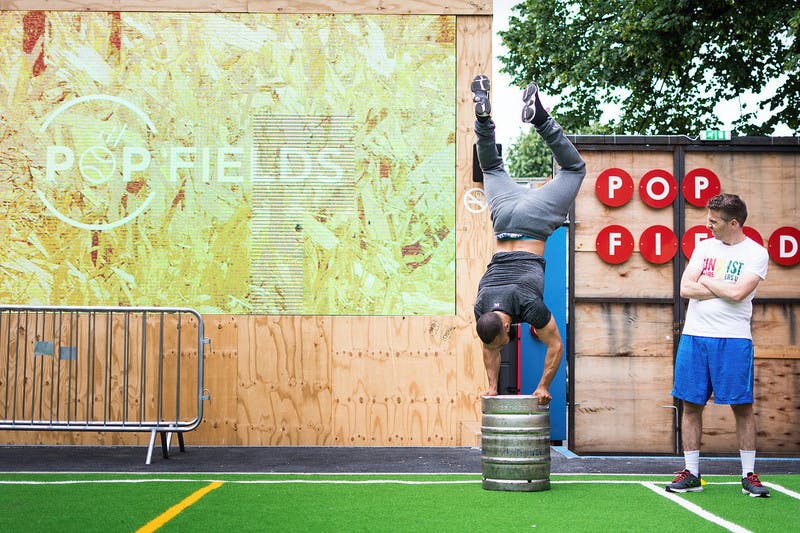 Block Workout is one of these groups. They are dedicated to supporting young people in South London, using outdoor exercises to promote affordable physical activity. Founder Teroll Lewis, a fitness vlogger and pioneer in the highly-anticipated fitness trend, calisthenics, started Block Workout after coming out of prison in 2009.
Teroll and his army of personal trainers (all professionally qualified, not just with "a 6 week course and a bit of paper") have transformed some of Lambeth's toughest estates by providing a space for the community to work out, with local initiatives including community sessions at Angell Town Estate and Brixton Street Gym.
We're proud to be host to their latest round of free community classes this summer, so we caught up with Teroll to talk Brixton Street Gym, Calisthenics and the new sessions on Pop Fields.
Could you tell us the story behind Brixton Street Gym?
After starting Block Workout in 2009 and then the community classes in Angell Town, we were hosting around 60-70 people at the time. There wasn't enough equipment to accommodate everyone who was interested, so we started Brixton street gym about a year and a half a go now.
When Lambeth council first showed us the space, it was a loading bay. Really, the kind of place where someone would go for a cigarette not to work out, a mission impossible! But we thought, let's try to build something from this.
It happened with the hope of everyone who believed in us, we collected pull up bars, we got donated paint from family and friends of the people who attend block workout, we made that place from a loading bay to a masterpiece and we've been going strong for about a year and a half now.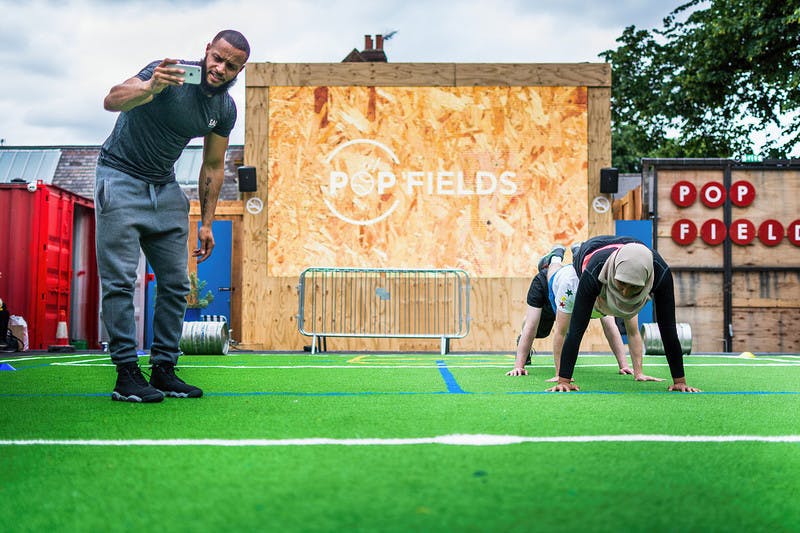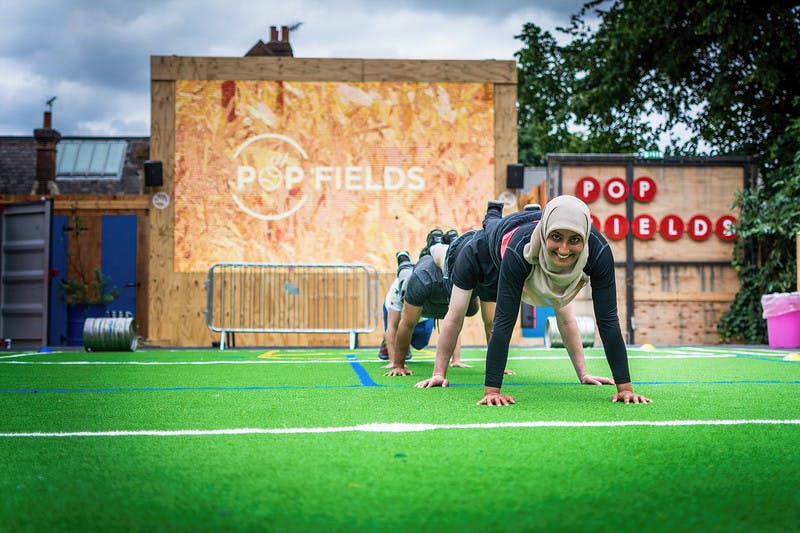 What impact do you think Brixton Street Gym has had on the local community?
It's made a massive impact, especially on that estate of Somerleyton road. I say it all the time it's ok for us to work on the outside of Brixton - Pop Brixton, Brixton Village, the high street, we've even got a premiere inn in Brixton right now!
But we have to look at what's internal, we have to look inside the tower blocks where gang activity and violence is still happening and this cycle is still alive… but then we've got the cheese and wine outside. It's all good! Look, I'm just us much about that as the next person, but we all have to look after both worlds!
How do you think Block Workout is able to achieve that?
The street gym is an example of us doing that, we've seen so many people's lives change – every day, every single week, every month. We've had some young people come through who were on probation and now they're working in banks!
It's a real mixture of people that come to the Brixton street gym, we've got bankers coming down and working out with people on probation, with people on tags, so we're really breaking that barrier of 'I'm from a middle class background and you're from an estate in Brixton surrounded by gang activity' but here, we're side by side, all equal at Brixton street gym. We're mixing suits with tracksuits.
One of Block workout's main principles is that essentially that 'The world is your gym' – Why?
When I came out of prison, I remember going to a local gym and asking them how much it was to join the gym. They told me I had to get a 'direct debit'. I had no idea what they were talking about, honestly, I didn't have a bank account and used to keep money under the pillow. I remember going to a park and using the swings as pull up bars, using the slides to do press ups and all that type of stuff. I used what I had around me and that was my outlet. It was my time to be there, my time to be me and it helped me, both mentally and physically. So I wanted to spread that model of training, for people to be able to see that they weren't just limited to a gym and to really spread the idea of physical health being tied to mental wellbeing.
Why do you think community driven sports initiatives and groups are so important in a place like Brixton?
Sport in general, people don't understand the power of getting everyone together on one mission! Whether that might be as a hobby, or as an outlet, or just something to do. It takes them away from that bad stuff – especially the young people. I'm speaking from where I'm coming from. For me, when I was a teen it was football and it was me getting together with people who wanted to play and grow in football or become professional footballers, and we grew in that.
What are you looking forward to the most about holding regular sessions on Pop Fields?
I think Pop Fields is a pretty amazing thing, you're giving people a space, so sports groups can come down and get some hours in with these young people, and hopefully it's not just ours here and young people that do come down get something out of it.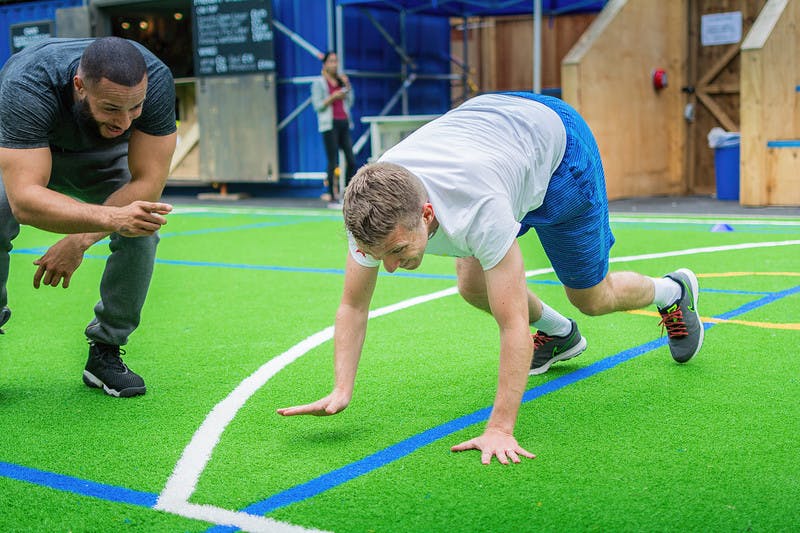 Do you have any advice for people who are looking to come down – but might be a little intimidated by your videos!?
I'm really looking forward to it! Everyone sees the human flag and triangle on the videos, don't worry we're not gonna make you do that! We're going to start with walking, jogging, then running … then maybe some backflips... just kidding! If you do come down, you've got a really good support system down here, not just personal trainers who've done a 6 week course for a bit of paper. You've got people with experience and people who that actually care about your mental state as well as physical state. So yeah…. come down people! Health is wealth, let's get money!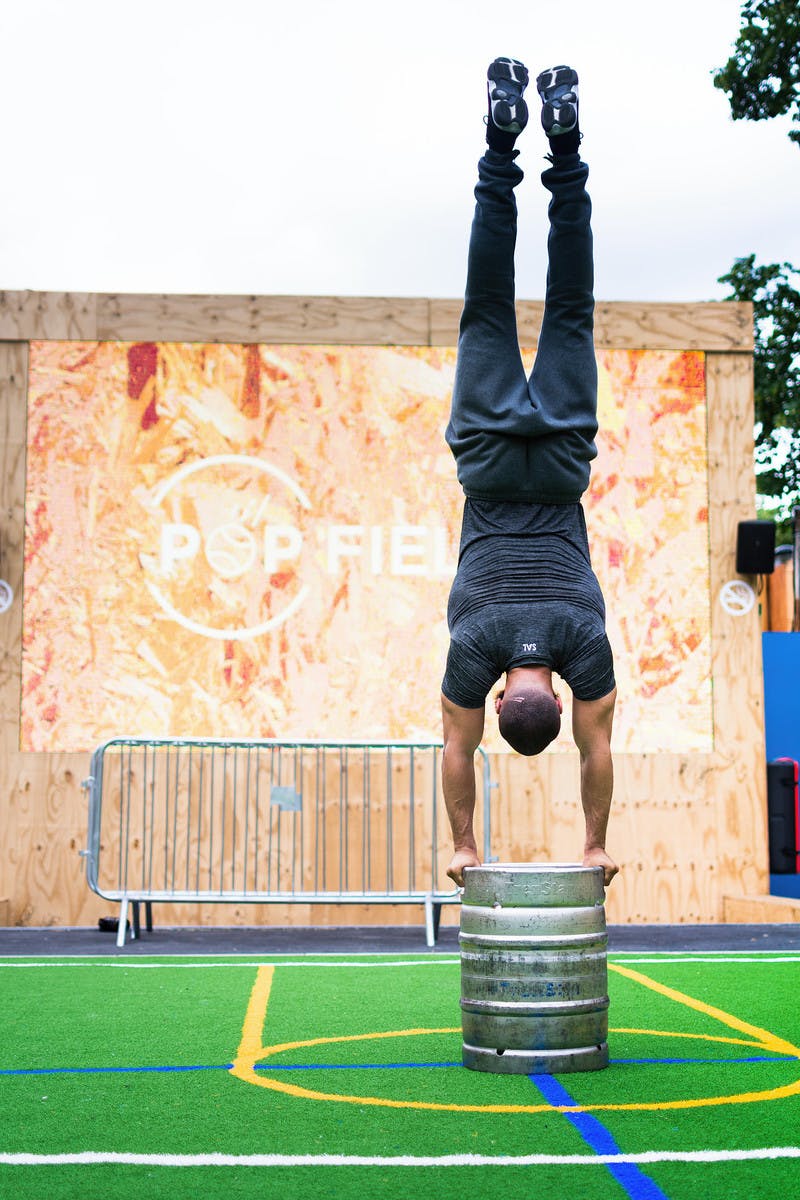 Block workout playing on Pop Fields every Tuesday 3pm-5pm till August 16th.
Sessions are free and for people of all fitness levels and abilities and the experienced Block Work Out trainers will work closely with individuals to create a fun fitness environment where
they can reach their goals.