When you've got a new businesses or a great idea, the best way to test it is by putting it in front of customers. At Pop Brixton we have two pop-up retail units which are available to rent for shorter periods, from 1 week up to 3 months.
If you've come down to Pop Brixton during the last two weeks, you may have noticed the bright, colourful and tribal patterns adorning the unit on the right, when you walk in through the main entrance. Gandy's is a retail fashion start-up, specialising in beach-wear, bags and sunglasses but they've also got a very unique story behind the brand - which has inspired everything from their designs through to the company logo.
Brothers, Rob and Paul Forkan are the founders of Gandys Flip Flops. The brand was inspired by their special upbringing, having already seen much of the world by the age of 13 and 11.
At the age of 15 and 17, while travelling through south Asia, their parents were tragically killed in Sri Lanka by the tsunami of 2004. By 2011, they were ready to introduce something into the world that encapsulated their upbringing, supported a cause they were passionate about and was the perfect tribute to their parents. Out of a one bedroom flat somewhere in the heart of Brixton, Gandys was born.
We caught up with Rob to chat about their first ever retail pop-up unit, humble beginnings in Brixton and what the future holds for Gandys.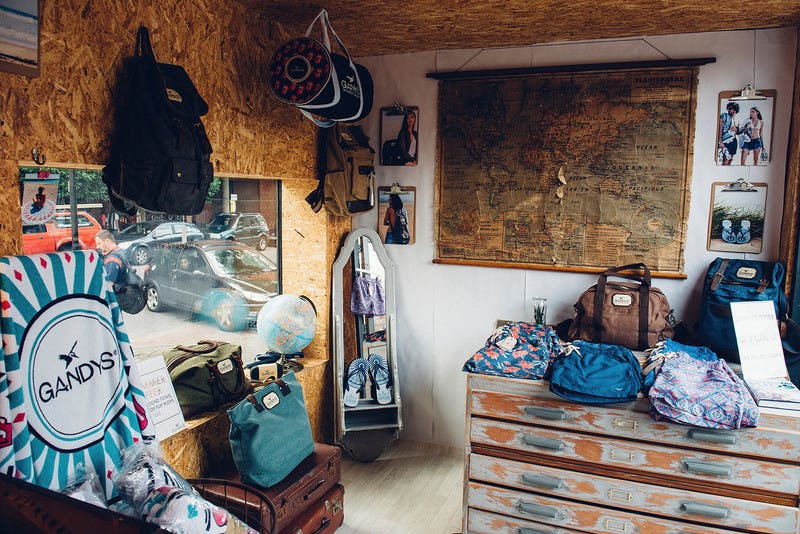 What attracted you to set up a 'pop-up' shop?
This is our first official store as it were, we've done pop-up stalls at festivals before but we've never had an actual unit before. We wanted to try it out for three weeks and go for something more long term (3 weeks) rather than short term - which is the case with festivals!
What can people expect when they visit your store?
Spongy Flip flops!! Ok but yes, they can also get more of a feel for the brand by visiting the pop-up as oppose to browsing online, so it's a good chance for people who've never heard of Gandys to discover us. Its a chance to say hello at some of the team at Gandys and learn from more about the children's homes we're helping to build and the Gandy's foundation.
What are you inspired by?
We're really heavily inspired by our travels, from Morocco to India. We're also fuelled to give back to causes we believe in which is one of the core values of Gandys. One of the questions we always ask ourselves before launching a new line or product is 'Would we wear that?' - I think that's pretty important.
How did you get started and what were you doing before you joined Pop Brixton?
Paul came up the brand in a flat in Brixton and wanted to create something that would pay homage to our unique upbringing. We actually started selling the flip flops out of the flat in Brixton first!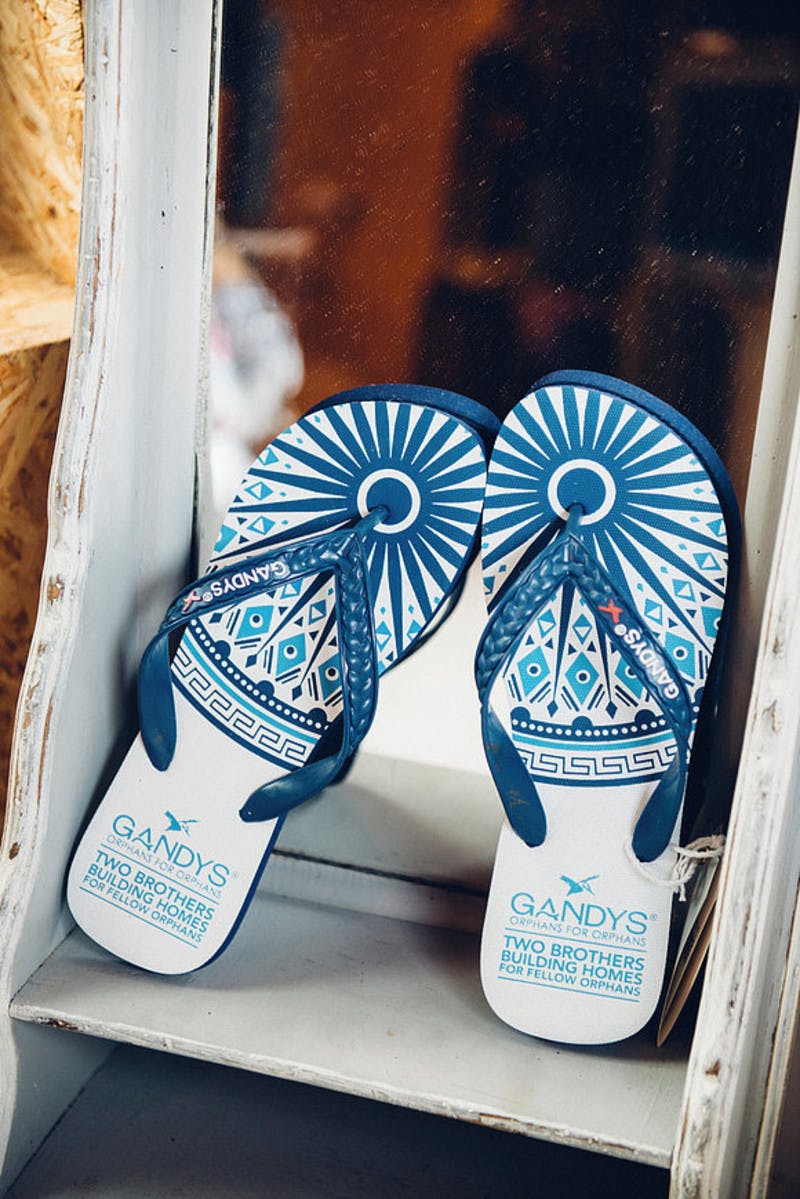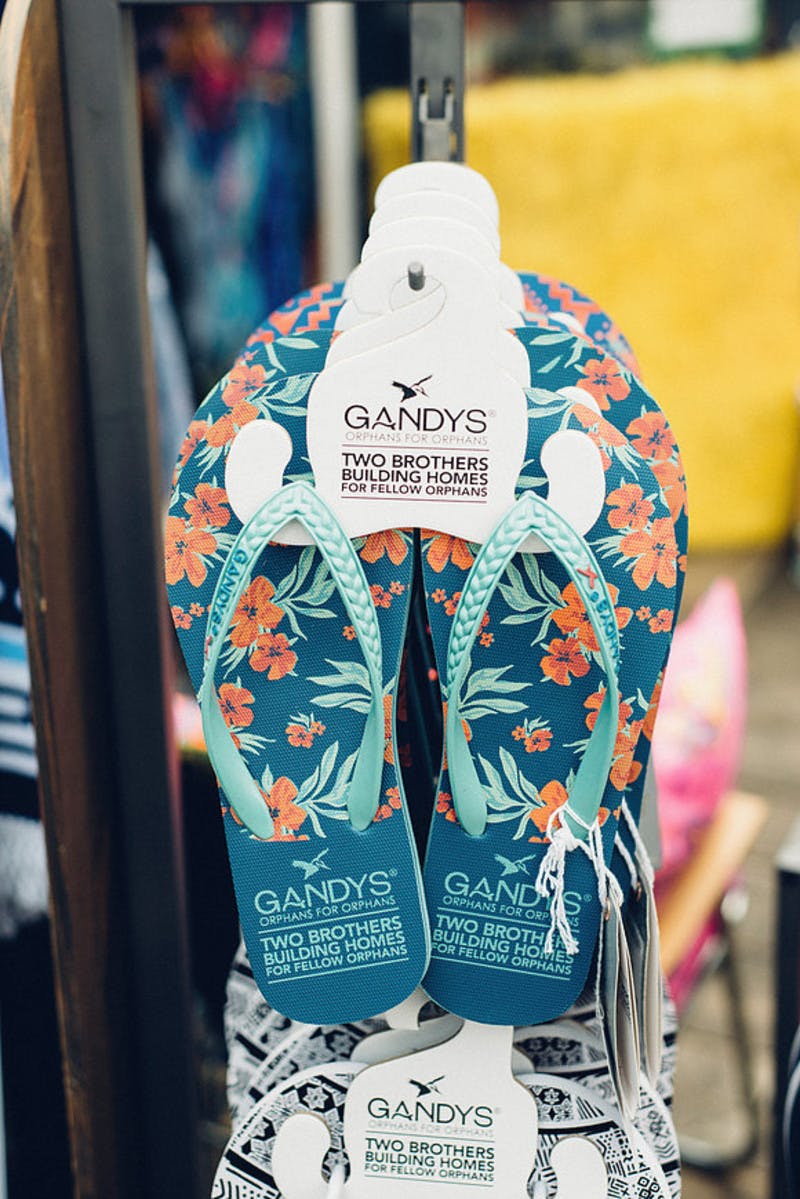 What made you choose Pop Brixton as a location for your first pop-up?
There seems to be a good energy and atmosphere at Pop Brixton, a real community.
Well, we admit the big screen at Pop Fields for the Euros may have also swayed us slightly! - some of the guys working in the shop are pretty happy to watch the footy down there.
What does Brixton mean to you?
I love that its multicultural, when you walk through the village or market you're transported. You could be literally be anywhere in the world, its the closest thing I've experienced to the hustle and bustle of India.
If you could choose anyone to visit your pop-up?
If it could be anyone, then probably Bob Marley! I have really fond memories of Jamaica, with the Brixton vibe it'd be great.
Which three items would you choose to take to a desert island?
A sketch book, a pen, and one of our Bohemian Mandala round towels! It'd keep me dry AND warm cause I can double it up as a blanket!
Gandys are at Pop Brixton till Monday 4th July, get your spongy flip-flops and sunnies - 10% of the proceeds from any sales go the Gandy's Foundation.
To find out more about the 'Orphans for Orphans' and the Gandy's Foundation:
http://www.gandyslondon.com/orphans-for-orphans
To visit the Gandys online store: