Recently, the delicious smell and sizzle of salt beef brisket has started wafting through Pop Brixton, and if you follow it you'll be led to Bel Shapiro and her beef-busting bagels. Bel arrived here a week ago, adding her street food brand The Bell & Brisket to Pop Brixton's community of food traders. Bel champions the timeless combo of salt beef, pickled cabbage, dijon, melted cheddar and gherkins to create famous bagels fit-for-a-king and aptly named, like the "Lord Rupert". Bell, has earned her street-food stripes at street-food collective 'Kerb', foodie market 'Street Feast' and various pop-ups in London pubs. As well as her famous bagels, Bel also offers up a range of amazing breakfast and brunch dishes, and the filthiest fries in London.
It's enough easy to spot the love and attention she invests in her business, where products and ingredients in her famous bagels are all sourced with thought and care. The bagels are baked fresh daily by brick-lane institution Beigel Bake and black rye buns by Carmellis, an old school Jewish family bakery in Golders Green. The pickles are supplied by Vadasz Deli, who produce extraordinarily fresh and fermented vegetables like dill pickles, sauerkraut and hot roots and the brisket beef in the bagels is cured in a brine and a (totally top secret) spice mix.
In her own words, eating a bad salt beef bagel "can actually ruin your life", so we caught up with Bell, to talk about why she thinks her beef bagels are #Betterthanaburger.
How did The Bell & Brisket start and what do you do?
We are a street food business specialising in salt beef, pickles, bagels and rye bread. We started probably like many small street food traders, from market stalls in local markets such as Camden & Haringey and then graduated to Kerb, which helped to boost the business to where it is today.
Where have you been trading in London, so far?
We've been about a bit over the past few years, operating from Kerb's lunch markets, Street Feast, private events and festivals, and pub residencies and pop ups including The Dukes Head in Highgate and our current long term residency at The Barley Mow in Shoreditch.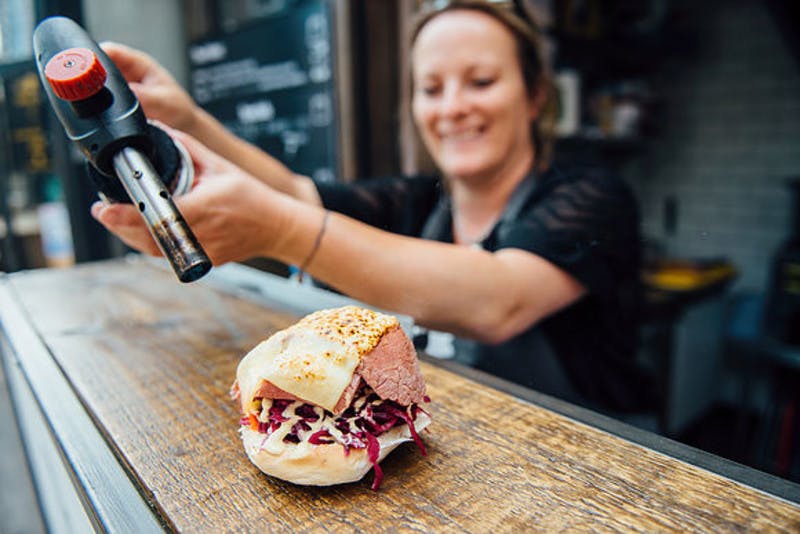 What was it that attracted you to set up shop in Pop Brixton?
I'd recently moved to Brixton, and my friend Paul, who runs the brilliant Donostia Social Club invited me to come and check out their first restaurant. The place looked amazing. It's such a cool environment with a great energy and spirit about it. I can't think of a reason not to be there! We're really chuffed to have secured a unit here; it's going to be a lot of fun.
How would you describe your food?
Beef busting bagels, not for the faint hearted and definitely #betterthanaburger! Plus our legendary filthy fries, and salt beef hash brunches.
Where did you train in cooking?
Trained? Me? Are you kidding? I trained in Theatre Design! I've learnt on the job, it's been a baptism of fire! Lots of steep learning curves on windy rainy market stalls. If you can cook there you can cook anywhere!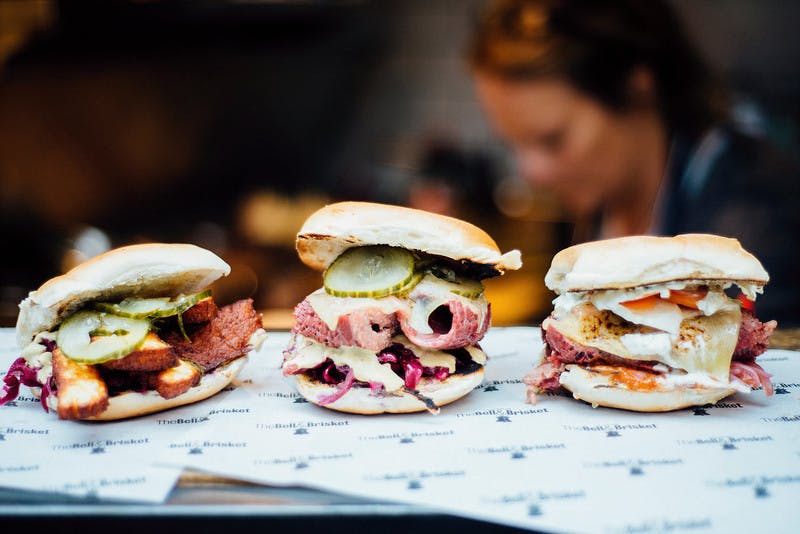 You can find The Bell & Brisket at Pop Brixton, next to Mama's Jerk & Make, do and Mend.
To find out more about The Bell & Brisket:
http://thebrisket.co.uk/
Facebook: https://www.facebook.com/TheBellAndBrisket
Instagram: https://www.instagram.com/brisketbel/
Twitter: https://twitter.com/brisketbel