Versus by Verses is an aspiring mental health charity for young people in London. It was created with the purpose of eradicating the stigma attached to mental health through the arts. This Saturday at Pop Brixton, Versus by Verses will be hosting a FREE event, which aims to boost moods, and enlighten people about mental health. There will be live music from an array of young talent across South London, guest speakers who will be offering advice and insights into the importance of mental health awareness, and much more.
With just one day to go before their inaugural event at Pop Brixton, it seemed right to invite Calum Manson, and Erica Chalmers, the brains behind Versus by Verses to write a guest blog post for us!
Here's what they had to say.
Versus by Verses
Our vision is to eradicate the stigma that so often surrounds mental illness - particularly amongst young people. Given that rates of depression and anxiety in young people have increased by 70% in the last 25 years, there is an ever-intensifying call for support and yet, since numbers have increased so rapidly, a sense of fear of judgment exists amongst sufferers as well as a lack of understanding from those who have no experience of such issues. We are hoping to tackle this problem from a new and progressive angle. Through bringing the community together to access and enjoy music and the arts, not only will people be encouraged to talk more openly, but sufferers will also be provided with opportunities to express themselves creatively and engage in mindful, therapeutic activity.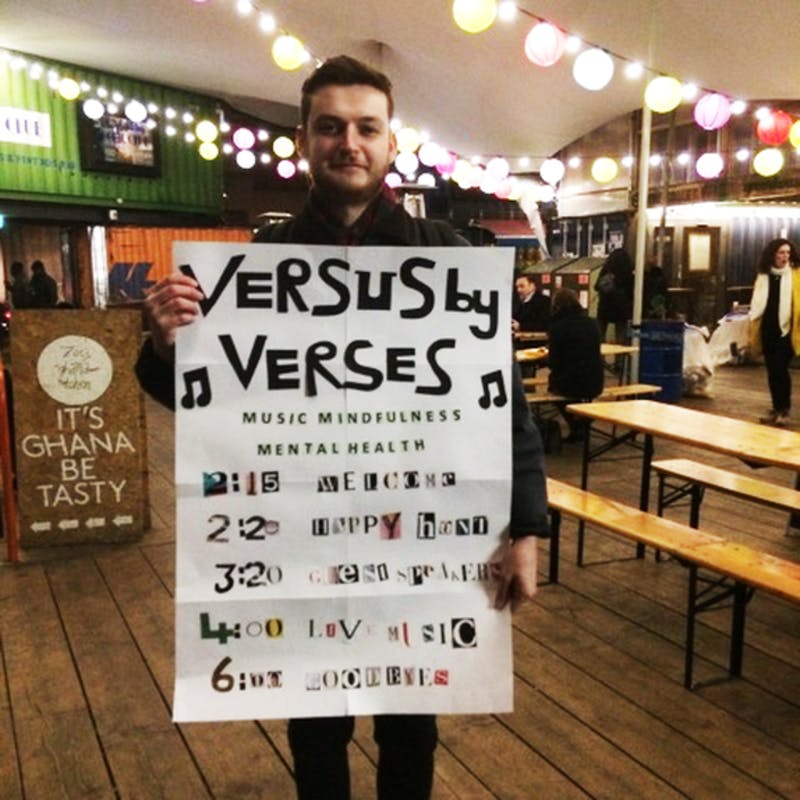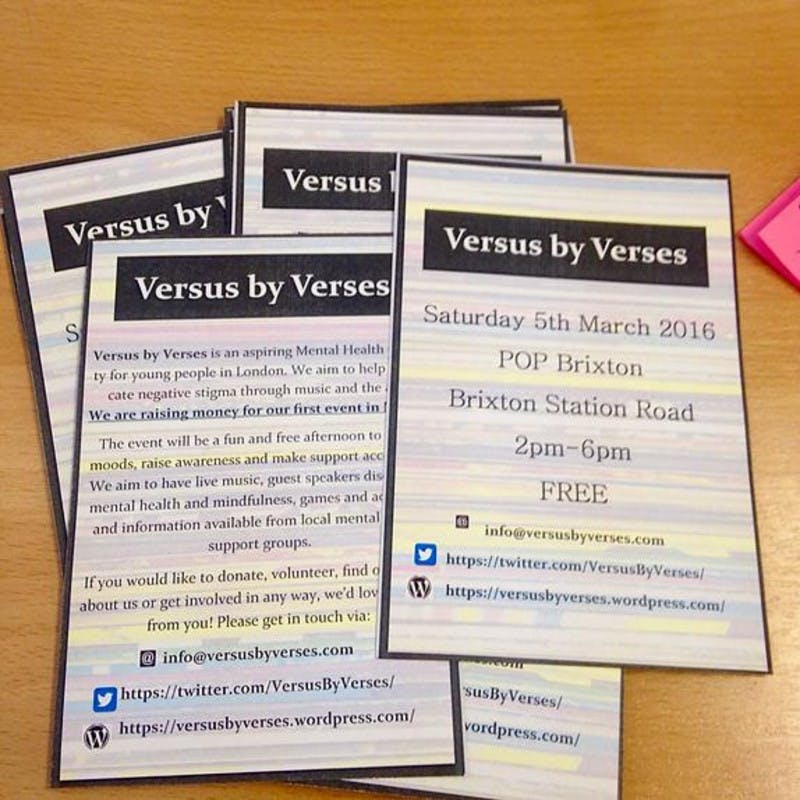 We are delighted to be holding our first awareness-raising, discussion-provoking event at POP Brixton as we aim to focus our support for the communities in Lambeth. Whilst local support services are plentiful, there are evident challenges to the borough's mental well being. Lambeth has higher rates of people receiving incapacity and disability benefits for mental health problems as well as more people admitted to care for alcohol and substance misuse than many other boroughs. The London Health Observatory estimates that, in any given week, 12 % of Lambeth residents experience depression or feel depressed. We would like the public to become aware of this, and to step out of the grey cloud of fear and shame that envelopes so many of those suffering and engage in meaningful activities which promote happiness and challenge detrimental stigmatisation.
Despite the seriousness of the topic we want to clearly reflect our positive approach in addressing the issue. We firmly believe that art and music can be used to creatively tackle people's pre-conceived ideas of mental health. Sufferers, non-sufferers and the community as a whole can come together to create and reflect their relationship and understanding of mental health in a number of positive and colourful ways.
We hope you will join us in our mission to make Lambeth a happier, more open and communicative borough with less fear and less discrimination against people suffering from what are some of the most common and harmful afflictions in the UK."
Love Versus by Verses X
(Statistics from The London Health Observatory and YoungMinds.)
Versus by Verses are hoping to raise money through music, poetry and the arts to fund future events, as well as providing a platform on which those suffering can express themselves creatively - hence versus: tackling the issue, by verses: through spoken word.
Keep up to date with Versus by Verses on Twitter, Facebook, & their Website.
Support their mission by donating here.